Wake Forest stars headline MLS SuperDraft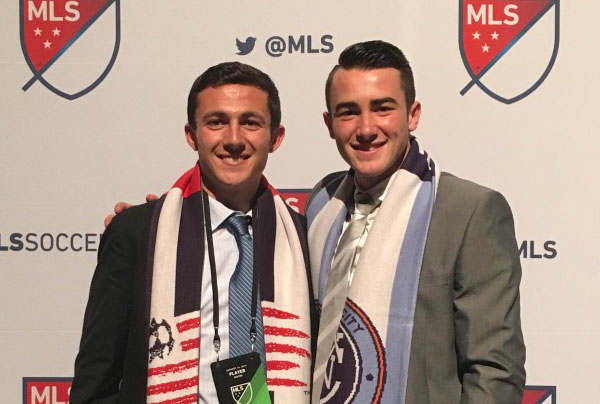 On Thursday, Jan. 14, the Major League Soccer 2016 SuperDraft commenced where Jack Harrison made headlines around the nation from his No. 1 overall selection. Now, Jack Harrison is a common name for anyone around Wake Forest.
With such an impressive season with the Demon Deacons, it was projected he would go fairly early in the draft, but was a surprise at No. 1, as he had not fared too well at the MLS Combine.
The other Wake Forest draftee was Michael Gamble, who went No. 30 overall.
Harrison, drafted No. 1 overall by Chicago Fire, only dawned the Chicago Fire scarf for 45 minutes before he was traded to New York City FC. This was a smart move by the  Chicago Fire as it was well known that the New York City FC had been after Harrison, even making a failed Homegrown Player claim on him since he had played for NYCFC youth affiliate Manhattan Soccer Club from 2012 to 2015.
Harrison is an interesting fit with the NYCFC, owned by the same holding group as Manchester City, as he had been part of the world renowned Manchester United academy for seven years.
NYCFC have a star studded, yet disjointed team, with world famous Designated Players David Villa, Frank Lampard, and Andrea Pirlo.
Their strong central and attacking players overshadowed their defensive counterparts and the team finished 17th out of 20, accumulating 10 wins, 17 losses, and seven draws for 37 points.
They also lacked a strong wide players, having to play Mix Diskerud on the right wing, with Thomas McNamara on the left. This will give Jack Harrison plenty of opportunities for playing time and the ability to grab a starting spot.
Another interesting caveat with Jack Harrison's draft is that he signed a Generation Adidas contract (that guarantees a predetermined salary and that he will sign with the drafts him) with a clause that calls for the team to pay for his classes when he chooses to resume them.
Not to be overshadowed, Michael Gamble joined the New England Revolution as the No. 30 overall pick.
He now joins former Demon Deacon Sean Okoli, who joined the Revolution last year, having been traded from the Seattle Sounders.
The Revolution have a history of drafting Demon Deacons, such as Jeremiah White in 2004, James Riley in 2005, Michael Parkhurst in 2005, Ryan Solle in 2007, Wells Thompson in 2007 and Zach Schilawski in 2010.
Gamble also joins former Baltimore Bohemian, London Woodberry, in New England and will join a team that tends to develop American college players such as Revolution legend Taylor Twellman.
He may find it hard to get time, though, as the New England Revolution aren't short of attacking options.
Wake Forest's prominence in college soccer is continuing to grow, through offering great coaching along with a renowned education.
Harrison will look to make an immediate impact on the NYCFC squad. Additionally, Gamble will provide great value and versatility to the Revolution. Both players should have exceptional professional careers, and will continue to represent Wake Forest well.
Head coach Bobby Muuss also expects a strong recruiting class this year, so if you missed any of the action this year, make sure to try to come out for a few games next season.