Sofia Coppola returns to the director's chair
Toeing the very fine line between comedy and drama, this new film (exclusively available on Apple+) stars Bill Murray and Rashida Jones as a father-daughter duo
Sofia Coppola's new film On the Rocks is a slow-paced but rewarding ride that re-examines themes familiar in Coppola's works. Starring Rashida Jones and Bill Murray, the movie focuses on this father-daughter duo amidst Jones' character's suspicions that her husband, played by Marlon Wayans, might be cheating. Despite a cast filled with comedic talent, including a couple of appearances from Jenny Slate, the film is more of a drama than comedy. It does a great job of staying lighthearted despite some heavier themes, and that's mostly due to the spectacular performance from Bill Murray. Murray is able to appear both aloof and deeply invested, portraying a carefree father that ought to be a little more mature for his age. Borrowing a cliché, Murray really is the heart of the movie. Murray's misguided warmth is the primary reason that you root for Jones and Murray to reconcile. Coppola, a very intelligent filmmaker, chooses to track these characters' growth through Jones' ability to whistle. The father-daughter chemistry is the reason I stayed invested as a viewer. Equally as important, if not more, Jones dishes out a great performance anchored in reality. While Murray gets to be a carefree senior, Jones has to play a writer and a mom in a rut, boxed in by the atmosphere of the city and by her role in her own house. For most of the picture, she has writer's block, a perfect encapsulation of the bind she is caught in. She feels stuck in her daily routine, afraid that she has become boring for her husband as she finds her own life increasingly boring. The subtlety in her performance was outstanding, and it's a shame that it is getting lost behind the conversation about Murray's late-career performance.
Standing at 98 minutes, Coppola's project feels even shorter than its brief run-time. It's mostly due to a simple plot and its preference towards subtlety over enormity. Point A leads to point B leads to point C, it doesn't seek to be any larger than it actually is. It really felt like watching a short film more than a feature-length project. Although a fantastically well-designed and well-orchestrated piece, it will probably only be a borderline contender come awards season because there's no grand moment that brings the audience to tears, as there are in every other movie hunting for an Oscar. On the Rocks never tries to be something it's not. To use a sports metaphor, it never tries to play outside of itself. It's a role-player, maybe even a starter, that can put up a reliable stat line. The film lives within the margins, never feeling too big or too small. It hurts the movie that it is pretty much exclusively on Apple TV+, a streaming service yet to find its footing. It's a picture that doesn't necessarily demand your attention located on a service that doesn't demand it either. In a year with a very small number of quality films coming out, it would be unfortunate if it evaded the attention it deserves.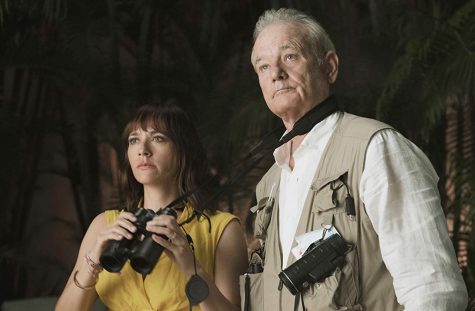 Through On the Rocks, Coppola explores some common territory, with the most direct comparison from her past works being Lost in Translation. It's an apt comparison to make, not only because of the obvious Bill Murray connection, but because of the common feeling of a closed-in atmosphere created by a rut. Both of these pictures deal with this crushing feeling of being stuck, though in different ways. The differences between Lost in Translation and On the Rocks highlights Coppola's maturation as a filmmaker. On the Rocks chooses to include more solemn but joyful notes, while Lost in Translation exudes many moments of muted grandeur between its two leads. On the Rocks manages to be a smaller and more mature exploration of being stuck. It's another excellent addition to Coppola's catalogue.
Although not one of Coppola's best works, most filmmakers would struggle to pull off On the Rocks. It requires a delicate touch and a sensitive eye that not many directors have. It's a testament to her ability. A lot of directors could direct the next MCU film, but not a lot of directors could have directed On the Rocks. Sofia Coppola has been one of the more consistent directors in the last twenty years when it comes to producing quality films. Her work has been some of the more underrated cinema from her era. On the Rocks is another movie that I thoroughly enjoyed from Sofia Coppola. It's a movie that I would recommend if you have a free hour and a half and enjoy a slower paced experience. Coppola has slowly built up one of the more impressive collection of films and I am thoroughly excited to see what direction she chooses to go for her next film.