Steve Frank dives deep with The Queen's Gambit
Both parts compelling and intriguing, Netflix's newest original series, The Queen's Gambit, features a chess prodigy's life as she balances addiction and social pressures
On a cold November night, never did my suitemate and I think that we would witness a Netflix series as eye-opening as The Queen's Gambit. With most of the news circulating around the recent election and the rise in coronavirus cases nationwide, this series provided not just a refreshing sense of relief, but also an insightful perspective into various societal issues in modern civilization.
Before watching the series and reading numerous critic reviews, the most interesting element of the Netflix series to me was the decision of Scott Frank, the director, to make the main character a young woman. Anya Taylor-Joy has received a great deal of praise for her impeccable performance in the show acting as Beth Harmon, a female chess prodigy who fights countless obstacles to ultimately become the global chess champion. It was only after reading and doing some research online that I accessed the truth: the story is not real! The Queen's Gambit is actually based on the 1983 fiction novel of the same name written by Walter Tevis. The character of Beth Harmon does not actually exist.
However, critics do, in fact, point to the seemingly obvious relation between Taylor-Joy's fictional character Beth and Bobby Fischer, the true former American chess grandmaster and eleventh World Chess Champion. Similarities between these characters include their taste in clothes, sense of ambition, eagerness to attack and ability to learn quickly.
Furthermore, the question arises of what Frank's intention was with Taylor-Joy's role. Yes, it is based on Tevis's fiction novel, but Frank had the freedom as the director to adapt the character of Beth Harmon however he pleased. Ultimately, Frank chose to illustrate Harmon's character as above and beyond intelligent, likeable, strong and independent (among several other positive traits). The question remains: why? Critics say Benny Fischer's character in real life resembled one that was more "antisocial" and "one-dimensional." Although I have not read Tevis's novel, my interpretation of Frank's adaptation in regard to Harmon's character is that he wishes for her to act as a role model for young women, simultaneously opening up his viewers' eyes to the gender inequality that still persists.
One of the major reasons for the existing gender inequality is the lack of representation women have in emerging industries. For instance, only 30% of the world researchers are women, says Johnny Wood, a senior writer for the World Economic Forum. In addition, women working in STEM fields are publishing less and often receive less pay. According to Wood, this is not because women are not smart enough, but because gender predisposed stereotypes and gender biases prevent them from even pursuing interests in STEM.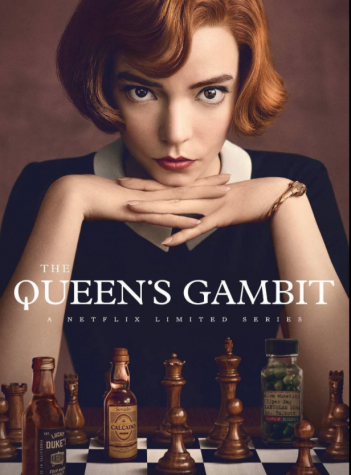 Women are even deterred from playing chess, a game that was and continues to be dominated by men. In 2017, Maria Cubel, Economics professor at the University of Barcelona, said "it seems easier for a woman to become American president than world chess champion." Of course, this was said before Joe Biden chose Kamala Harris as his running mate. Nevertheless, it is still quite difficult for women to close this gap. But with Frank's portrayal of Harmon in The Queen's Gambit, the possibilities seem endless.
The second major topic that Frank brought to light through the series was the significance of family. Harmon is brought up by her mother at the start of the film, with her father leaving the picture quite abruptly with not much explanation. Unfortunately for Harmon, her mother ultimately commits suicide by intentionally driving into a car coming from the opposite direction on the road. Harmon, on the other hand, survives the crash.
This is a turning point for Harmon in the film as this event officially makes her parentless, forcing her to live in an orphanage for most of her childhood. Other than her close friend, Jolene, and the janitor, Mr. Shaibel, Harmon spends a great deal of time alone. Eventually, she gets adopted by a seemingly nice couple, only for her "new" father to quickly go AWOL. Although her "new" mother (Mrs. Wheatley) stays around, she does not do much better, soon becoming an alcoholic and taking numerous "green pills" per day just to stay afloat. It appears as if Mrs. Wheatley attempts to revamp her bleak demeanor, but this does not last long. After traveling to chess tournaments with Harmon (and taking 15% of Harmon's rightfully deserved winnings), she dies from Hepatitis.
It is fair to say that Harmon basically lives on her own for most of her life, looking after only herself, and experiencing new things on her own: sex, drugs, alcohol, partying, and more. Other than the friends she eventually becomes close to towards the end of the film, Harmon has absolutely no nurturing or guidance from anyone even resembling a parental figure. This leads to her wasting her time during several parts of the film getting drunk and high as opposed to pursuing her passion in becoming the world's best chess player.
With this series of events, Frank opens our eyes to the unfortunate reality of modern families. I personally have a very close relationship with my family, exchanging texts and calls every few days if not every day to see how everyone is doing. However, I have countless friends who do not have this kind of relationship with their families. After having one-on-one lunches with my mom or dad, I have often gotten strange looks of confusion and disbelief, as if I did something so extraordinary. Many of my friends have told me that they cannot even imagine having a sit-down dinner with their families (a daily routine for my family). With my mother being a psychotherapist who specializes in marriage counseling, anxiety and depression, she has sadly confirmed the increasing disconnect between children and their parents. Let us hope this trend does not continue.
Do not get me wrong. The Queen's Gambit is a fantastic show, but Frank sure makes you think about the world through a different lens. However, to me, this is what makes The Queen's Gambit so great.