Spotlight wows audiences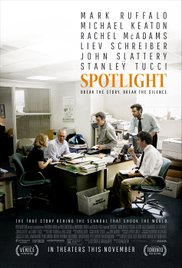 Movie critics, journalists and theater-goers alike all have something to say about Spotlight. And for the most part, feedback has been overwhelming positive.
Released to limited theaters on Nov. 6, Spotlight has impressed audiences of all ages. The film is nominated for six Oscars and has earned a Rotten Tomatoes average audience score of 95 percent.
The movie is based on true events. During an investigation in 2001, the Spotlight Team of The Boston Globe uncovered an abuse scandal within the Catholic Archdiocese in Boston. In early 2002, the Globe published multiple articles revealing allegations from more than 130 people recalling horrific stories from their childhoods about molestations by priests on minors within the diocese.
As they further investigated, the Spotlight reporters realized the sexual abuse cover-up was more complex than expected. The Spotlight Team's work earned a Pulitzer Prize in 2002 for their series of reports.
Director Tom McCarthy wrote the detailed script with The Fifth Estate writer, Josh Singer. Some critics are praising the pair for their lack of Hollywood glitz and glam and emphasis on the true story uncovered by the Spotlight Team. McCarthy and Singer focus on the demographics and neighborhoods of Boston and the priests and victims under question. The movie is well thought-out, presented and executed.
Spotlight has an extremely impressive cast including Michael Keaton, Mark Ruffalo, Live Schreiber, Rachel McAdams, John Slattery and Brian d'Arcy James. They each play a key reporter, editor or researcher of the Spotlight Team.  Although movie renditions of historical events often don't do the story justice, Spotlight's intensity and urgency appropriately reflect that of newsroom breaking sensitive stories. The movie never slows down — I was on the edge of my seat throughout the two-hour film.
While some critics are calling the film a thriller, Spotlight is not your typical crime drama featuring high-speed chases and action-pack "fight scenes." You'll watch the Spotlight Team in meetings in their offices, visiting informants and sharing a couple beers and a pizza while working at home together. Instead, Spotlight's action lies in the moving interviews with victims and arguments between coworkers in the newsroom.
The movie is incredibly accurate, with one big exception. Some critics say McCarthy and Singer took too many liberties with the chronological order of events. In 2001, articles by the Boston Phoenix preceded the Globe investigation. There were many other reporters at the Globe helping to break this story as well as many lawyers representing the victims of abuse. Regardless, Spotlight is remarkably compelling.
Spotlight doesn't have crazy special effects and the props aren't outlandish. It lacks flashbacks and a catchy soundtrack. The writers did not add a love story to raise interest. Instead, the Spotlight office features dated furniture, stacks of photocopies and article clips — true to most newsrooms of the time.
If you don't make it to theatres to see it, Spotlight comes out on DVD on Feb. 23. You don't want to miss it.