Jhene Aiko integrates sound healing with R&B
Jhene's latest album, Chilombo, breaks music and emotional boundaries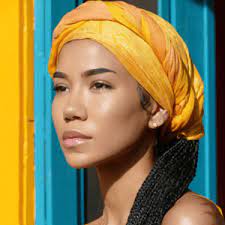 Ying Xu, Contributing Writer
March 11, 2021
This week, we celebrate International Women's Day in a special way because, behind the glory of feminist progress, there is no success without effective healing and vulnerability.
It has been a year since we welcomed the release of Jhene Aiko's new album on March 6, in which the LA-born R&B artist illustrates a journey of finding love, working through triggers, exploring engaging in sex and sexuality and achieving inner-peace and liberation in multi-dimensional ways.
Her song "Triggered (Freestyle)" features a protagonist overwhelmed with a nebula of emotions engaging in a pleading dialogue with her unnamed thoughts. These thoughts call her out by warning her and protecting her, but also betray her by coercing her triggers to "fall back into [her]." What's even more groundbreaking is that, like the majority of this album, this careful and intricate teetering between emotional vulnerability and unapologetic growth is done in freestyle, and not in the typical style of R&B. Aiko freestyles most of her songs in the Chilombo album in ethereal, vibrato-filled vocal runs that parse through almost every phrase. Her chorale-like melodies perfectly mirror her intention of providing the rawest form of healing possible with the power of her femininity.
Subsequently, "None of Your Concern (ft. Big Sean)" makes sense of this dialogue about triggers by setting boundaries. Aiko says, "it's none of your concern anymore" to her male counterpart, who responds sourly in the song with a heartfelt rap. With big-name collaborations such as Future, Miguel, Nas, John Legend and Big Sean, she pays tribute to the multifaceted, commercialized and culturally proud space that converts great artistry into healing not only for herself but for male figures in her life who have been inspired to explore their own emotions as well.
Later in the album, Aiko restores her comfort in her femininity in songs such as "Speak", where she appeals to her listeners to stand up for their own glow; "LOVE", which resonates with the universal frequency of kinship between oneself to another despite differing backgrounds; "Happiness Over Everything (ft. Future and Miguel)", where the clever acronym "hoe" in the title destigmatizes sex positivity and "Define Me", which reflects the recurring theme of self-liberation and respecting boundaries.
However, the antidote to the triggers does not just stop with compelling words, but frequencies as well.
"I have been studying how sound can be a form of healing, and I played my singing bowls throughout the album," said Jhene Aiko in a "Wake Up with Jhene Aiko" segment.
Indeed, she incorporates how each key of music integrates with different chakras in the body to provide a pathway for healing, depending on your focus.
For example, according to the artist, the song "Triggered" incorporates the keys of C and A to heal the Third Eye, which is a gateway to universal knowledge, and the root chakra, which indicates passion, anger and desire. Despite the niche nature of crystal bowl sound healing, one cannot help but become enthralled with the ways the music remains almost completely unadulterated with autotune and synthetic instrumentals. This is an amazing switch from what we usually hear on the radio if that's something you desire.
Without a doubt, Jhene Aiko has been nothing short of prolific across her 29 songs in the Chilombo album with a uniformed intention to bring up emotions that we have, too frequently, shoved under the rug to match the hustle and bustle of urban life, the album imparts an important message. If you are an R&B fanatic from the 90s with Sade and Aaliyah, or a new fan of contemporaries like H.E.R and SZA or just completely new to R&B at all, I promise that Jhene Aiko will transcend your expectations while validating your stories with music as a healing mechanism.
After all, the "Lightning and Thunder" of life that causes us stress and anxiety are worthwhile in the end, when "Magic Hour" occurs. Nothing is perfect, but it's beautiful, just like all of us who have grown weary over the past year. Therefore, I invite you to tap into your inner "Lotus", where you can open up your broken heart because Aiko did so, and a year after the album's release, the words still hold true.