Bachelor tensions leave viewers cringing
Former Wake Forest student and football wide receiver Matt James takes the stage as the Bachelor on the newest season of the hit ABC show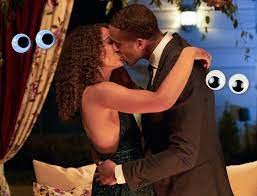 There are few genres of shows on television today that compare to the creative genius of reality TV. From Keeping up with the Kardashians to Survivor, reality TV captivates audiences around the world with touching emotional dialogues and depictions of real life. But perhaps there are no shows as emotionally stirring as The Bachelor, where Wake Forest's very own Matt James plays the role of superintendent of love — the bachelor himself. However, shortly after assuming his role on reality television, the world became aware of James' secret — James' can't kiss without keeping his eyes open. Maybe, at Wake Forest University, he had a bad experience with Moe's salsa, forcing his eyelids permanently open. Or perhaps, the true reason runs deeper than Tex-Mex — what if Matt James had a scarring experience with a girl on campus that has left him permanently hyper-aware of girls seeking to play tricks on him.
We can all agree that kissing with your eyes open is straight up awkward. By staring directly into the eyelids of your partner, said partner is left questioning what's wrong, as the thought, "do I have a zit on my forehead?" races across the mind.
Better yet, what if James is hoping his "bachelorettes" will keep their eyes open too, as they make out, staring into each other's eyes until the sexual tension forces the girl to give up and leave the show? If it is a tactic to knockout the contestants he lacks a connection with, it's certainly working — the women on the show have found this mating strategy as odd as fans have. Credit is due to James, though. Since he became aware of this predicament, he's taken matters into his own hands. James said on the show, "Maybe I need to start wearing shades? If I were to do this again, I'd probably have an eye patch or something. It's a learning experience." While not the best idea for wooing ladies, James could be doing worse.
Bachelor hall-of-famer Tyler Cameron also made a comment on his friend's peculiar technique. Cameron posted a photo on his social media of James' wide-eyed make-out with bachelor contestant Lauren, chirping him in the comments. James responded by saying, "Gotta make sure no one sneaking up on us! When your eyes are closed. ANYTHING can happen! It's for both of our protection." That's very suspicious, Matt, very suspicious. The only remaining question I have is just this: was it a Beta or a cheerleader that did you dirty?
Since this initial drama, James has been able to get back on his horse and meet some amazing women, several of which, he has developed meaningful connections with. One of these more promising picks is Rachael Kirkconnell, whose past history sparked controversy amongst viewers of the show.
With the show coming to an end, there are two final contestants who will compete for James' affection: Rachael and Michelle. Despite showing consistent interest in both contestants on the show, James has apparently broken his record of attentiveness by closing a blind eye to the controversies that surround the fan-favorite, Rachael. Ever since a photo has surfaced depicting Rachael in attendance at an antebellum-themed college party, controversies have sprung up describing Kirkconnell as insensitive and racist.
In response, James said, "The past few weeks have been some of the most challenging of my life, and while there are several episodes left of the season, it is important that I take the time to address the troubling information that has come to light since we concluded filming. The reality is that I'm learning about these situations in real-time, and it has been devastating and heartbreaking, to put it bluntly."
So, in continuation with the show's consistent record of producing love between two individuals inorganically, The Bachelor might be producing yet another picture of happily ever after, but will it be Rachael or Michelle? And, just when it seems like the complications of this love story can't get any more tangled, Bachelor host Chris Harrison decides to get involved. Harrison's implication ultimately caused him to step down as the show's host, a position he has occupied since 2002. After defending Kirkconnell's controversial past decisions, Harrison defended the contestant, claiming her history as a college student does not define her current views or impressions. Despite his reasoning, Harrison was met with anger and backlash for many, prompting his decision to step down from a role he's grown into so well.
Needless to say, this season of The Bachelor is nothing short of confusing. From awkward kissing scenes to uncomfortable past histories, it would appear this season of the reality tv show has been cursed by the anti-Aphrodite. The one redeeming factor in this season is the fact that the Bachelor, himself, is a Wake alumnus, an incredibly capable and intelligent young man. I think I speak for the entire bachelor fanbase — and the Wake Forest University community — when I say, we trust your decision, Matt. Just please, for the love of God, keep your damn eyes open when you decide.