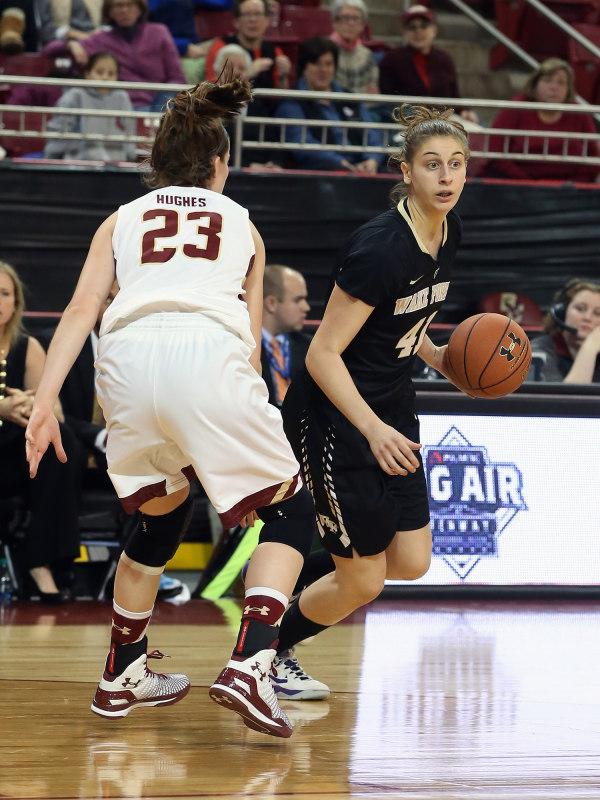 The Wake Forest women's basketball team had two ACC wins this past week against Pittsburgh and N.C. State.
The Deacs were led in scoring by Milan Quinn, Amber Campbell and Ariel Stephenson at Pittsburgh. Quinn finished with a double-double, scoring 14 points and recording 11 rebounds, 10 of which were on defense. Pittsburgh's Stasha Carey was the only player to score double digits, finishing with 11 total.
Wake Forest finished with 28 points in the paint and 12 fast break points; this was crucial to their success of holding the lead for 37 straight minutes. The Deacs played especially well in the first and third quarters, where they scored 20 points in each.
The lead started to stretch out in the first quarter when the Deacs hit a few three-pointers and free throws. Wake Forest started the third quarter with a quick four points from Quinn as well as two three-pointers from Elisa Penna and Stephenson. Wake Forest's lead remained consistent for the rest of the game.
The Deacs converted more points off of turnovers than the Panthers, which contributed to their success. Wake Forest's Quinn and Penna led the team in rebounding and accounted for a lot of their points. Their fast break points helped them too; Wake Forest had a number of steals that were converted into points on the other end.
Free throws, three-pointers and total field goals determined the outcome of the game. Wake Forest shot 46.9 percent from the floor, while the Panthers only shot 28.8 percent. Pittsburgh took 10 more shots than the Deacs, but Wake Forest converted a higher percentage.
Pittsburgh only shot 17 percent from three-point land and 70.6 percent from the free throw line.
Wake Forest beat them in both components; 40 percent from behind the arc and 88.9 percent from the free throw line. This was the Panthers' eighth loss in the ACC and Wake's third ACC win.
Wake Forest had another win over the N.C. State Wolfpack on Feb. 7. This game was very evenly matched for the full 40 minutes.
Wake Forest's Stephenson led the team in scoring, finishing with 22 points, followed by Quinn with 11 points. The Wolfpack gained a significant lead in the first quarter, but that lead suddenly shrank in the second quarter, when Wake Forest's Campbell and Stephenson started hitting free throws, three-pointers and forcing N.C. State turnovers. The Deacs momentum carried on until the end of the game, especially the fourth quarter. Wake finished with 37 total rebounds, while the Wolfpack only finished with 25 — determining the outcome. The Deacs had 26 defensive rebounds, preventing N.C. State from getting opportunities for put-back points.
Overall, Wake Forest pulled out a victory that could've easily been a loss; the odds were stacked against them. 
They are now 4-7 in the ACC and will host Duke on Sunday, Feb. 14.