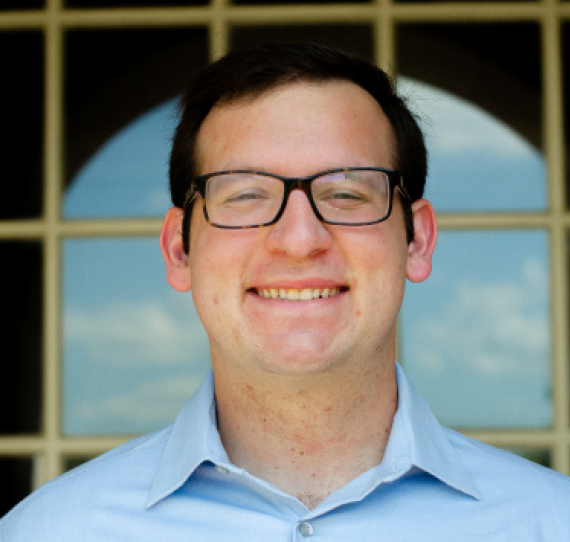 Mathematical Business: Noah Edwards-Thro
Like many children who were dissuaded from watching Disney Channel, Noah Edwards- Thro's favorite programming came from a Disney Co. subsidiary — ESPN. Growing up in Lexington, KY, Edwards-Thro was a big Kentucky Wildcats fan. But if the blue-blooded basketball team wasn't on the television that night, he was fine with any other ballgame. 
Playing since the age of eight, Edwards-Thro carried that love of basketball to Wake Forest, where he became a student manager for the women's team during his freshman year. It was the basketball court that opened his eyes to the world of data analytics. 
Edwards-Thro came into college as an intended finance major but went to an info session during his first year that quickly changed his mind. 
"I learned that the average first-year, second-year analyst works like 80 to 90 hours a week," Edwards-Thro said. "I was like, 'not going to do that. I'm just not.'" 
One of his old friends was a mathematical business major and showed Edwards-Thro what the subject really was. Then, Edwards-Thro was thrust into the growing world of sports analytics and data science. Nowadays, many professional teams use analytics to improve their team's skill in the most cost-beneficial way — Moneyball, but make it mainstream — and this change has expanded into the collegiate levels. 
"Working for the women's basketball team made me realize that sports and data not only could be combined, but that they should be combined," Edwards-Thro said. "It was really cool for me to see our team tangibly improve because of some of the recommendations that I brought to the coaching staff." 
Edwards-Thro's thesis even centered around basketball analytics, "NBA Player Clustering using Gaussian Mixture Modeling". Even with the intimidating title, you don't have to be Billy Beane to get the gist. 
Edwards-Thro argues that the five-position system basketball operates under is a thing of the past and that coaches, general managers, and award voters should break the players into more skill-oriented categories. He then uses these new distinctions like the ball-dominant scorer (Damian Lillard) or the mid-range big (Dirk Nowitzki) to recognize trends in the NBA and how roster-building around this new position mindset leads to championships. 
Dr. Lucy D'Agostino McGowan has had Edward-Thro in three of her statistics courses and was his senior thesis advisor. 
"I've been so impressed by his ability to independently synthesize the literature, his technical acumen, and his capacity to communicate complex statistical concepts to various audiences," D'Agostino McGowan said. "[His thesis] was a perfect topic for Noah combining a complex modeling technique with a practical application." 
Edwards-Thro has been looking to work at an independent consulting firm, saying that while working for a specific team would be cool, there is a lot less free time outside the organization. The summer before senior year, he interned for the Chicago-based company Stats Perform and he will return to a similar position post-graduation. 
He will be working for the company remotely as he simultaneously obtains his master's in data science from the University of Virginia. He won't be in Charlottesville, however. 
Edwards-Thro's fiance, Amber Adkins, will be conducting psychology research at Wake Forest Baptist the next two years, so the soon-to-be-wed couple will remain in Winston-Salem. 
And although his time in Winston-Salem is not over yet, Edwards-Thro will still be missing the simple moments of being on the Reynolda campus. 
"The best days are just the ones where you're out on the quad doing work, playing spike ball, throwing the football," Edwards-Thro reminisced. "You know those days where it's just simple. When life is not complicated and there's a simplicity to being with other people."