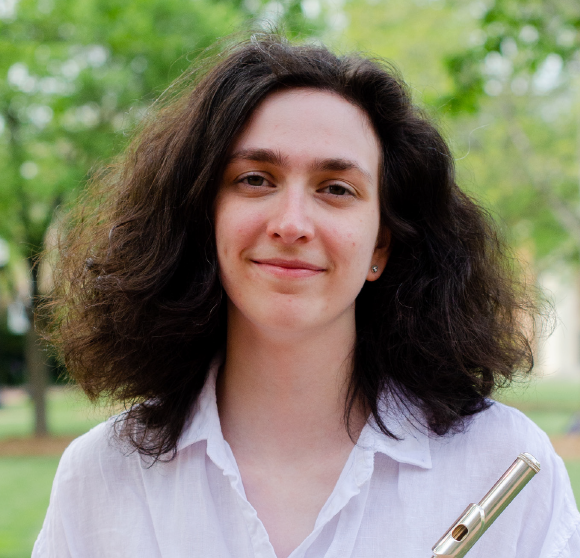 Music Performance: Katarina Sams
Katarina Sams' love for music began at a young age. Born in Croatia and raised in Switzerland, she attended an elementary school where she was required to play a band instrument. Sams chose the flute and has dedicated her life to learning that instrument ever since. 
Sams moved to the United States in 2018 to begin her undergraduate studies at Wake Forest. She entered her freshman year thinking she might want to study music performance but wanted to keep her options open. Once she began taking classes in the music department, however, her decision was solidified. 
"Once I started my music lessons, doing wind ensemble and orchestra and private lessons with the flute, that's when I knew that I wanted to be a music performance major," Sams said. 
Despite her years of experience, Sams still describes performing on stage as "nerve-racking". Through the nerves, however, she still enjoys gifting her music to other people. 
"My only goal is to make people happy when they see me perform," Sams said. "If people like what they see, that's enough for me." 
Sams' mother played piano and also wanted her daughter to have music in her life. Sams inherited that same desire to share music with others, and that's why she loves teaching music. 
In her later high school years, she began helping her flute teacher teach younger students. She described an instance where one student made tremendous progress, and that's what made her fall in love with teaching music to other people and inspired her to teach flute to students in the Winston-Salem/Forsyth County School District while at Wake Forest. 
"It's fun, and I like to have that relationship with students because I like to help and inspire other people," Sams said. 
After graduation, Sams will be attending the Shenandoah Conservatory in Winchester, VA, where she will be working on her Master's in Flute Performance. Before she moves there in the fall, she will be participating in two major music performance projects over the summer. She will be performing in wind youth orchestra projects in Austria and Czech Republic. She also has her first gig this summer in Croatia playing alongside a Croatian city's chamber orchestra. 
Sams is excited that her future holds many performance opportunities, and she hopes to begin working on her long-term plan of having a private lesson business. 
Reflecting on her time as a music performance major, Sams remembered the joy she found in finally perfecting a challenging piece. 
"The best days are whenever I play something right after getting it wrong so many times," Sams said. 
Assistant Professor of Music Dr. David Geary had Sams in his music theory courses for three semesters. He cited her dedication to the department and meaningful involvement as a tutor and member of multiple ensembles. 
"Among her excellence as a performer, she is also just an excellent student, and she is a very versatile musician," Geary said. 
Geary is confident that Sams will be highly successful in her post-graduation plans. 
"Graduate students require a great deal of self-direction, and I think she possesses that," Geary said. "She sees opportunities and pursues them, and I think this will help her professionally." 
While Sams has certainly sharpened her musical performance skills during her time at Wake Forest, she says her most valuable lesson is not musical in nature. When asked the most significant thing she's learned as a music performance major, she answered: "Patience." 
"My mom always said that patience is a requirement in life, and I never believed her until getting into this major," Sams said. 
When asked what she still has left to learn? "Patience."