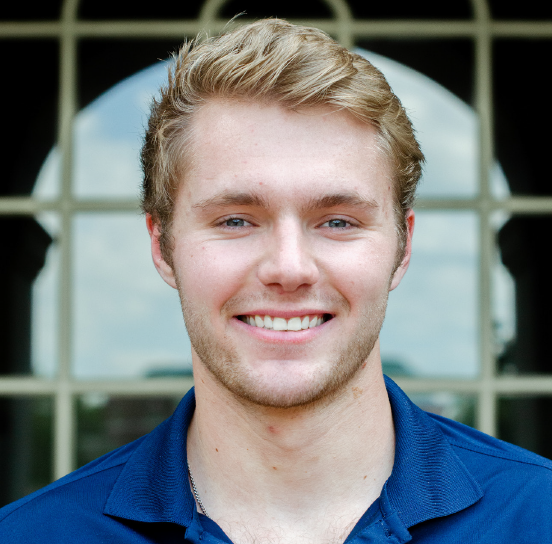 Physics: Will Caulkins
Will Caulkins didn't have the firmest idea as to what he wanted to do when coming to Wake Forest — but his interests aligned him with a science, math, engineering and technology (STEM)-related discipline. Physics provided Caulkins with an intuitive way to learn and an understanding of problem-solving that he resonated with. It was a subject that he continued to love during his time at Wake Forest. 
"When I came to Wake Forest, I had no idea what I wanted to do," Caulkins said. "I knew I had a propensity towards science and math, so I thought I wanted to do something related to that. I started out taking an engineering class thinking that I wanted to build something, but it didn't strike a chord the way that physics did." 
Despite a primary intention to pursue engineering and switch his focus to physics, Caulkins will be jump-starting his post-graduate career with an engineering position. 
"In the fall, I am going to be starting a job at the company Peraton in D.C.," Caulkins said. "I am going to be doing satellite communication systems engineering. I did an internship for them this past summer and absolutely loved it. I worked with all different types of engineering — electrical, software, mechanical, 3D printing, drones." 
Even though Caulkins' job will have a primary focus on engineering, his experience and studies in physics have given him the tools to be prepared for the field. 
"Physics gives you exposure to a lot of engineering disciplines," Caulkins said. "I took an electronics class that taught me how to wire up systems. I've taken a computational physics class that has taught me software engineering. More generally, [physics] has taught me how things work. There's an intuition about what to do if I do things this way." 
Caulkins described the close relationships that he built with professors during his time a Wake Forest. 
"Don't let professors intimidate you," Caulkins said. "They are some of the smartest people that you have ever met — but don't let that intimidate you because you will learn a lot from these professors." 
Dr. Keith Bonin, professor of Physics and vice provost for research & scholarly inquiry, was the advisor for Caulkins' honors thesis. 
"Will has worked on research with me since the spring of his sophomore year," Bonin said. "Initially interrupted by the pandemic in Spring 2020, the following two years were fruitful, as Will and I worked on an National Institutes of Health project to track microscopic objects in 3D. Will learned many different skills, including Atomic Force Microscopy, plasma etching, spin-coating, fluorescence optical microscopy, data analysis in Matlab, and how to automate a state-of-the-art microscope and camera by programming python-based software." 
Bonin continued: "Will also worked closely with a co-advisor, Dr. Stephen Baker, who is a Teacher-Scholar Postdoctoral Fellow in the Physics Department. Finally, Will presented his work as part of a Physics Department seminar on April 14, and he also wrote an honors thesis based on his laboratory work on 3D microscopy. Both Dr. Baker and I thoroughly enjoyed conducting research with Will, and we will miss his hard work and intelligence, his good humor, and his fun attitude in the lab." 
Caulkins also participated in a successful "hackathon" last spring, in which his team developed a project that won the competition. The success prompted the sponsor of the hackathon to approach the team to further develop the project into a completed product. Caulkins' team worked to develop an application that logs and tracks the provenance of artifacts.