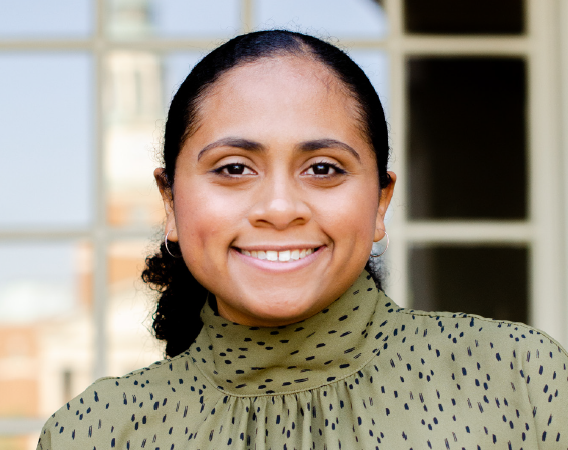 Spanish: Leslie Morales-Noyola
Leslie Morales-Noyola is a double major in Spanish and political science from Winston-Salem, NC. When she first arrived at Wake Forest her freshman year, Morales-Noyola had no intention of majoring in Spanish and instead just wanted to satisfy the language division requirement by taking a Spanish class. 
She soon discovered that her desire to interact with the Hispanic and Latino community would drive her to study Spanish and eventually grow a passion for the language. Morales-Noyola's interest in studying Spanish at Wake Forest also stemmed from her background, as her family roots are Mexican. 
"When I first came to Wake Forest, I really wanted to be an immigration lawyer," Morales-Noyola said, "I actually have been working in an immigration law firm for the past few years. She continued, "In that field, I interacted with a lot of Spanish speakers, so I thought it was really important for me to really improve that communication that I have with others, especially if I want to help them with their problems." 
Morales-Noyola's intended career path then shifted, but the importance of Spanish in her life remained. 
"I became more interested in immigration policy, but not necessarily being a lawyer," Morales-Noyola said, "and so I started getting more involved in education policy — specifically bilingual education policy. Another reason why I thought studying Spanish would be really important is because there's a lot of programs that need to be developed to help heritage speakers like me." 
Over her time at Wake Forest, Spanish developed into a more interesting and exciting topic of study for Morales-Noyola. She discovered that though she came from a family of Spanish speakers, there was still much about the language that she did not know. 
"At first, [studying Spanish] was just for me to gain more skills, but now, I'm genuinely interested in the subject. I really like learning more about Spanish beyond just the grammatical rules and everything." 
Morales-Noyola even had the opportunity to share her own culture in the classroom, which she describes as one of her favorite experiences as a Spanish major. 
"During the fall of my sophomore year, my professor invited me to do a presentation on my family's culture back in Mexico," Morales-Noyola said, "They're from Guerrero — a really tiny area that they call "La Cosa Chica" (The small thing). They have a really specific culture there. There's a lot of dances and like, all these traditions that are part of that." 
Morales-Noyola expressed why that day was her favorite in her major over the course of her college experience: "That was a really special moment for me. I got the opportunity to share a part of my culture that a lot of people — even some Latino people — don't know about the culture." 
Morales-Noyola describes professor Dr. Lauren Miller as an inspiration and mentor during her time at Wake Forest. Miller was particularly impressed with Morales-Noyola's performance and personality in her classroom. 
Miller wrote: "Leslie is extremely reliable, fastidious, talented, and is a beautiful woman, inside and out. I had her in three classes, and her performance was outstanding in all of them." 
Miller observed that Morales-Noyola was always well-prepared and put forth lots of effort and care into every project she took on. 
Miller continued: "I've really grown to view Leslie as a collaborator, friend, and colleague who I respect. She is a tireless civil servant who will no doubt improve her community through her passion, intelligence, and hard work. Her love for others, especially marginalized populations, is so pure and selfless that she makes me want to be a better person." 
While Morales-Noyola described Miller as an outstanding teacher and role model, Miller explained that the admiration was mutual. 
"She is a student who has taught me as much as I have taught her and will surely continue to inspire me," Miller said. 
As Morales-Noyola prepares to graduate, she looks ahead to making a difference in the world. With the help of her Wake Forest education, she strives to help and support the Hispanic community in Winston-Salem and beyond.