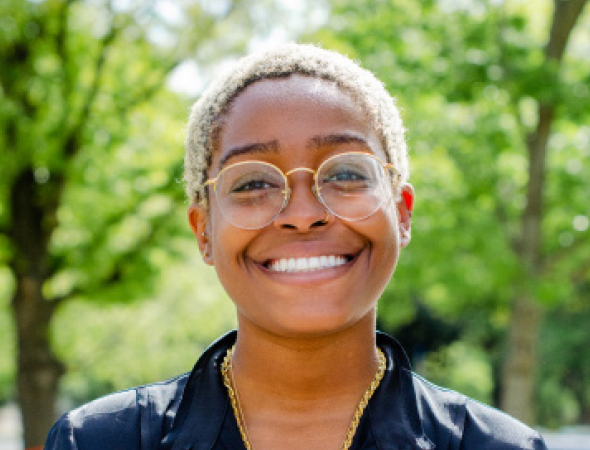 Japanese Language and Culture: Mia Williams
Going into college, Mia Williams was not too interested in learning a new language after some struggles with German and French in high school and Spanish in middle school. She knew, however, that there was a language requirement to be fulfilled, so she decided to give the Japanese a try.
As a big fan of anime, taking Japanese seemed like a logical and exciting opportunity. 
"My whole life, my older brother and sister watched a lot of anime —," Williams said, "and it was never in English, always in Japanese — so I was like, okay, I like anime, maybe taking Japanese will be fun."
This turned out to be a pretty great idea, as she quickly found herself immersed in the culture of the Japanese as well as picking up their language at a rate much faster than she'd experienced with other languages.
On the pre-medicine track from the beginning of her time at Wake Forest, Williams found the atmosphere and content of her Japanese classes to be relaxing and enjoyable in contrast to the rigorous workload of her biology and chemistry courses. 
"Going to Japanese class was a fresh air moment, and I really enjoyed the classes," Williams said. 
Thus, once sophomore year rolled around, Williams — after some encouragement from her sensei — decided to pursue a double major in Japanese. 
Williams quickly fell in love with the environment of her Japanese classes, as well as the rapid progress she was experiencing in her speaking and writing abilities. Her confidence grew. When she spoke to natives on Zoom calls, she was able to talk about more complex things that she cared about, like medical discrimination.
"It was really rewarding because, throughout this whole process, I was like, 'can I do this?'" Williams said. 
But, by the end, she proved to herself that she was more than capable and felt as if she had been making the right decisions all along.
Because the class sizes for Japanese tend to be relatively small, there were many opportunities for engagement and connection with professors. Over the years, Williams developed a strong bond with and appreciation for Professor Yasuko Takata Rallings. 
"I loved having [Williams] in class, particularly during the COVID-19 year," Rallings said. "Even on days when everyone was obviously experiencing Zoom fatigue, I could always count on her active engagement during online sessions." 
Following graduation, Williams plans to go to Japan for at least a year to work as an assistant language teacher in public schools through the JET program — something she was unable to do during her time at Wake Forest because of the pandemic. In combination with being able to see with her own eyes the country and culture that she has been studying for three years, Williams said that she was most looking forward to "being able to teach other people about Black culture, which is very uncommon in Japan." 
Williams said that she plans to bring and incorporate her own unique culture into her teaching because she has always been very interested in studying how various cultures have the ability to merge into and influence one another. Rallings expressed her excitement for Williams's future abroad, as well as her confidence that she will excel, saying that she was sure that Williams would "spread her positive energy and love for learning to public school students" during her time overseas.
Upon her return from Japan, Williams still plans to go to medical school to fulfill her lifelong dream of becoming a doctor. However, nothing is entirely concrete. 
"Something else could pop up, and I may decide to stay in Japan for the rest of my life," Williams said.