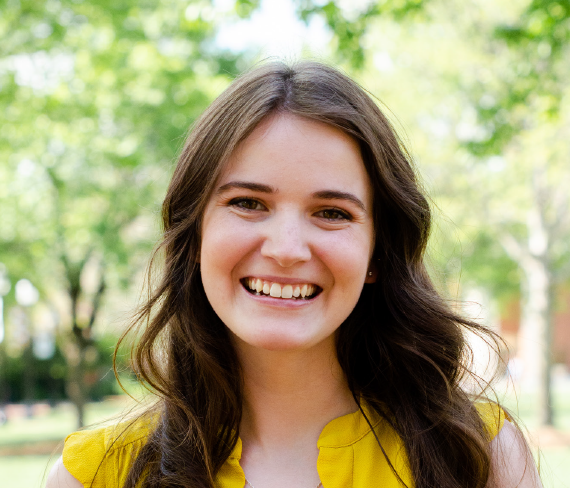 Psychology: Amber Adkins
 Amber Adkins' first exposure to psychology was at a high school summer camp in her home state of Kentucky. 
"I had never taken a psychology class before Wake Forest but I did a camp at one point in high school where we were split into different subject areas for the summer, and I got randomly assigned to psychology," Adkins said. "It was [less the] academic side of it, and more 'here are problems that people are facing — and what psychologists are saying about that.' That was probably the first point where psychology sparked my interest." 
Taking Introductory Psychology (PSY 151) her freshman fall confirmed Adkins' interest in the subject — she described it as the most engaging subject that she had taken. From there, Adkins went on to do summer research and started the honors program her junior year. 
"My freshman summer, I did research in Kentucky on child sexual abuse at a child advocacy center there and really enjoyed it — it's really important," Adkins said. "But I figured out through some volunteer opportunities that I really enjoy working with the older adult population. This past summer, I did research with a professor looking at mild cognitive impairment in older adults and cognitive psychology stuff." 
Throughout her time at Wake Forest, Adkins has built positive relationships with many of her professors, finding that they have been very supportive of her passions and aspirations. 
"All the professors that I've had have been very engaging, very willing to help me and meet with me outside of class," Adkins said. "They've helped push me academically in all the different semesters but they've [also] been so willing to meet me where I am, to learn what my passions are and to help me get wherever I want to go."
One professor that stood out to Adkins in particular was Dr. Janine Jennings, with whom she did research this past summer. Adkins noted that Jennings has been incredibly helpful in helping her figure out her post-graduation plans, as well as offering support and advice. 
Jennings has been touched by her time working with Amber, as well. 
"Amber is something of a quiet powerhouse," Jennings said. "She is intellectually talented, can juggle multiple research projects with a heavy course load while also pursuing her study of the violin yet is one of the most modest, humble and gentle individuals I have ever met."
As a psychology major, Adkins has come to recognize the power of underlying influences and processes on our everyday lives, noting that little things affect our lives in a big way. She has enjoyed being able to point out the little manifestations of what she's learned in her day-to-day life.
"[I've learned] that we have a lot less control over our thoughts and our beliefs than we think that we do — we're just influenced by so much," Adkins said. "Unconsciously, on an everyday basis we don't really know why we think the way that we do or why we believe the way that we believe — everything that we take in is biased in some way."
Adkins noted that her time in the department has been somewhat of a learning curve — while some of the classes she took were initially difficult, she's been able to connect concepts back to them as she's advanced. 
This growth has been aided not only by support from professors such as Jennings, but also by the collaborative and engaging nature of the classes Adkins has taken. She has found many friends in the department, noting that she has not perceived the competition culture that people often worry about at Wake Forest. 
"People [in the department] don't want to compete, they're just there to learn," Adkins said. "[We're] just trying to pursue [our] best, without being concerned about how other people might be better." 
In her final year as an undergraduate, Adkins has been doing part-time research at the medical school for the U.S. POINTER Study, examining the effects of a lifestyle intervention program on the cognition of people at risk for dementia. She has also been working on her honors thesis, studying the emotional well-being of older adults in the COVID-19 pandemic. 
After graduation, Adkins will be continuing her research for the U.S. POINTER Study. Her long-term goals include going to graduate school for clinical psychology and expanding on her passion for the well-being of older adults by working with the geriatric population — a demographic that she feels is often overlooked. 
As for her other plans, Adkins glowed when discussing her engagement to classmate Noah Edwards-Thro, whom she has been dating since sophomore year, and their upcoming wedding this summer. 
Correction: An earlier version of this article mistakenly referred to Adkins' position with the U.S. POINTER Study as a position with the U.S. Quaker Study.