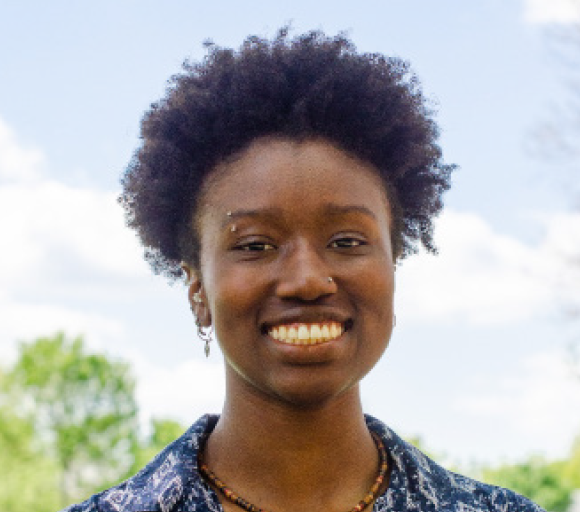 African American Studies: Sierra DeVeaux
Sierra DeVeaux will graduate as the first African American Studies major in the history of Wake Forest University. DeVeaux made the decision to major in African American Studies just before her senior year and found a discipline and faculty altogether different from any that she had ever encountered.
Wake Forest launched the African American studies program in the summer of 2021. It is led by program director and distinguished Wake Forest Professor of the Humanities Dr. Corey D. B. Walker, who has also worked as an external consultant on Wake Forest's Slave, Race and Memory project.
Walker, a mentor to DeVeaux, spoke to her exceptional skills as a student and her remarkable desire to learn.
"Sierra is a creative, committed and compassionate scholar," Walker said. "She practices a deep ethic of intellectual hospitality that complements her passion for creating a more just and humane world … it was a true gift to learn with her."
For DeVeaux, Walker's classes and the new African American Studies program became a place in which her passion for learning could flourish.
"This department and my experiences with its professors definitely push your intellectual capacity in ways that I really embrace," DeVaux said. "They get you to think critically and always ask questions constantly."
DeVeaux' curiosity about the academic institution has powered her excellence within her studies at Wake Forest. She has also studied within the sociology department at Wake Forest and intended to major in the discipline until the African American Studies program came into existence. 
One of the most important influences on DeVeaux' academic experience was Dr. Brittany Battle, an assistant professor in the sociology department and affiliate faculty in the African American Studies program.
"Dr. Battle started my journey as a student in her Intro to Sociology class," DeVaux said. "She and other professors were some of the first people to expose me to thinking about the world, and also caring for people's humanity."
Battle highlighted DeVeaux's intrepid passion for sociology and her other studies.
"Sierra was one of the best students I've taught!" Battle said. "Her intellectual curiosity and initiative made her such a pleasure to have in all of my seminars."
After exhausting many academic catalogs, DeVeaux's hunger for knowledge led her to its real-life application. And her major met her in that pursuit.
"A large part of the program is connecting the university with the community. You cannot just talk about something all the time and expect to automatically put it into practice," DeVeaux said. "What we're talking about is not just ideology, it's not just theories, there's actual practice that goes along with it."
DeVeaux's experiences in the classroom often translate into her life outside of Wake Forest. 
As an individual with a deeply creative mind, DeVeaux enjoys putting her writing, painting and video editing skills to use with her friends at Wake Forest and also in downtown Winston-Salem at Umoja African Crafts, a nonprofit store that sells handmade items crafted by artisans in Kenya.
Now, DeVeaux faces a journey from traditional academic instruction into a world where her intellectual curiosity will be without limits. She plans to spend the upcoming year after graduation investing time into her most meaningful relationships with others.
"I just wanted to remind myself after graduating that I can't forget to live," DeVaux said. "I can go to England and spend time with my family that I haven't been able to before and make connections with people that I wouldn't have expected."