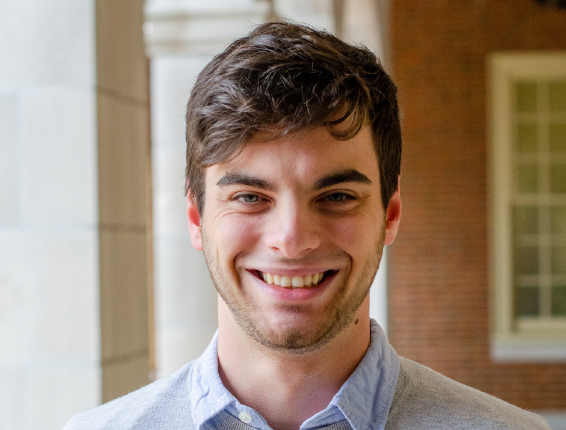 Mathematical Statistics: Andy Greene
 A lot of kids grow up wanting to be on the silver screen, being recognized wherever they go. Hearing whispers as they walk by of "is that Jessica Chastain? Honey, look it's the guy from 'Ted Lasso'" and "oh my god you are local Channel 6 News meteorologist Andy Greene" 
That was the dream for this Milford, Pennsylvania native — until he found out how much science was involved.
Andy Greene is now a statistics and computer science double major, but he's still trying to devote his love of numbers to weather prediction. 
Working with Dr. Rob Erhardt, Greene's senior thesis uses statistical modeling to predict how intense droughts would be in certain areas of the world based on factors such as air temperature and soil moisture.
"What I did was just kind of a pilot study for a larger project that [Erhardt] is going to be tackling for the next few years," Greene said. "He's been in communication with some of the government agencies that handle the national drought monitors and they said if we can come up with really good research and really good results, then they would consider applying it."
Over the summer, Greene will be preparing to move to New Mexico, where he will begin work at the Los Alamos National Laboratory on similar environmental research. 
"I'll be working remotely at home over the summer, but they will fly me out and get me acquainted with the area," Greene said. "But it's scary. You know, there's a whole new chapter of my life I'm about to get into but I guess I just kind of have to dive in headfirst."
But diving headfirst in has been something beneficial for Greene throughout his college career. It was deciding to join the board game club on a whim that led him to some of his good friends. It was registering for a jazz class as his arts divisional that uncovered a new interest of combining music and numbers. 
After speaking with professors in both departments, Greene realized that there is a lot more interconnectivity between musicians than some may believe. Perhaps this could be shown with a statistical model?
"I basically just collected a bunch of data on different jazz musicians throughout history," Greene said. "Who recorded with who? Which people were on different albums? And I tried to create this map of all of the interaction between these different jazz players throughout history. It was just a good way of visualizing how interconnected and collaborative jazz is."
This wasn't for an assignment for either class. Greene just was naturally curious and had some time on his hands. He has always favored the problem-solving aspect of statistical analysis and applying these methods and models to areas of personal interest are what he believes makes statistics so valuable.
In terms of advice for those wishing to follow in his footsteps and try to analyze the seemingly unnumerical, don't think about it like numbers. He admits it sounds a little counterintuitive, but there's a method behind the madness.
"Try not to focus on the theory and all of like the complex math behind it, because that can get kind of overwhelming," Greene said. "So to not get bogged down in it, but really, try to keep that high level view of what you're doing and how you want to apply this."