HBO documentary sparks controversy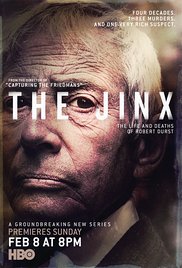 People really do get away with murder. The Jinx, a six-episode documentary series on HBO, tells the chilling story of Robert Durst. Durst, a scion of one of the wealthiest families in New York City, has been accused of being a notorious serial killer.
Andrew Jarecki and Marc Smerling set out to direct, produce and film a documentary to uncover two mysterious homicides and the disappearance of Durst's first wife, with the hope that justice would be served.
The documentary is especially enthralling in that the interview took place before Durst was found guilty — he was openly willing to be interviewed by Jarecki and Smerling as a free man at the time.
Throughout the series, viewers increasingly learn about Robert Durst's background, which leaves the audience confused as to how one that comes from a family of privilege could turn out to be a suspect by police, family and friends, all along.
It is clear to all, however, that Durst is the black sheep of a very successful, New York real estate family, one that controls and operates some of the distinctive buildings of the New York City skyline.
Jarecki and Smerling present to the viewer that Durst had always been viewed by family and friends as peculiar and troubled.
Throughout the interviews, Durst answers questions and defends his side of the story.
However, Jarecki continues to reveal disturbing evidence that only highlights the implausible nature of Durst's story. It is extremely unsettling to watch, as a viewer, a man who has seemingly ample evidence against him, continues to lie over and over again. The answers that Durst gives Jarecki almost seem rehearsed. With each question, Durst has an immediate response that he appears to be confident with.
It is easy to get hooked on The Jinx as each episode opens and ends with a new piece of evidence that further pushes Durst into the spotlight.
It is frustrating to watch how much evidence there is levied against Durst, yet he is not convicted or found guilty for over thirty years. When charges were brought, Durst easily made bail and continued to hire the most skilled defense attorneys to keep him a free man. In fact, Durst is still a free man and will face trial sometime this summer. 
The Jinx is a must-see documentary. Jarecki and Smerling do a wonderful job presenting the evidence against Durst and keeps the viewer interested the whole way through. Its hard not to draw the conclusion that our system of justice can benefit those with the means to hire the best lawyers and advisors despite what seemingly is overwhelming evidence of guilt.