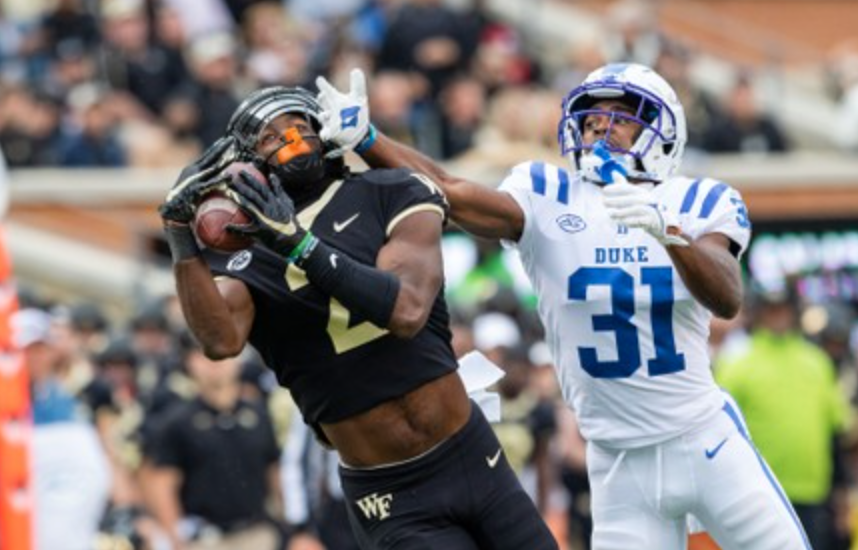 Oct. 19 – Donald Stewart
Donald Stewart, the Demon Deacon's new graduate transfer wide receiver from Stanford, was the OGB Weekly Sports Podcast's very first guest. Coming to talk with Jack McKenney and Joseph Doria during a historic season, Stewart spoke about what has led to this hot start.
This Oct. 19, 2021 interview has been transcribed and edited for clarity and AP style. Listen to the full episode here and don't forget to subscribe to the Old Gold & In Your Ears channel found on all podcasting platforms.
Jack McKenney: We have our first featured interview. We got wide receiver Donald Stewart of the Wake Forest football team. Donald, thanks for coming on. Tell us a little bit about yourself.
Donald Stewart: My man, my man, thanks so much for having me. Donald Stewart, here. Wide receiver, graduate transfer from Stanford, balling out my last year here at Wake Forest, from New Jersey. I'm just here trying to have a good time with the gang. What's up? What's up?
JM: I appreciate you coming on and am so happy to have you, as this has been an awesome season for you guys to say the least. And we still got more work to do. But coming from Stanford, what's the difference between ACC and Pac-12 football? West coast, east coast, what do you got to say about that?
DS: I would say very similar in terms of the competition. We got some big-time athletes all over the field in the Pac-12 and the ACC. I feel like the DBs out west were definitely a lot quicker, shiftier, smaller. But here back on the east coast, we got some big physical DBs. Like I'm playing against 6'3" DBs. I'm looking at them in the eye! And I'm like bro, why are you the same size as me? So guys are big, guys are physical over here, but man I'm happy to be back on the east coast closer to my family. I love Wake Forest and I'm glad to be here rocking with the black and gold for my last season.
JM: How did you get to know Coach Clawson? How did that work with the COVID-19 recruiting portal? How did you get involved with Wake Forest?
DS: That's an interesting question because Wake was in my top three coming out of high school. It was between Stanford, Michigan and Wake. And unfortunately, I didn't come here the first time around. But that second time, when I hit the portal in my senior year, when I was at Stanford in December, I wasn't really getting that many looks. It was really like smaller schools that I wasn't interested in. So I hit up [wide receivers] Coach [Kevin] Higgins just because he remained in contact with me throughout Stanford saying happy birthday and happy holidays. Like he wasn't even my coach, and he was just saying little stuff like that. 
So I hit him up. He's like"yo, Donald, come take a visit. We're gonna set it up, set up your official, we have a spot open if you want to take it." I came here on my official and committed. I told him I'm coming here, not turning back. Coach Clawson was literally in my living room in 2016 saying "look, Donald, we want you here at Wake." Now it's coming back full circle; I'm here; we're 6-0, trying to win an ACC chip.
Joseph Doria: Now going into the season, the offense managed to put up 35 or more points per game. What do you think is fueling this offensive firepower?
DS: I think it goes back to the offseason. We really put in some hours in that indoor facility. We were grinding. Sam got all the boys together and got a group chat going. Wide receivers, QBs, tight ends, running backs, and we threw Tuesdays and Saturdays. We were always just trying to link up during the week, on the weekends, trying to get some good work in. I feel like it's been paying off so far.
JM: Yeah, that's awesome. Coming up we got Clemson, we got — this isn't in order — but we got Clemson, we got NC State, we got UNC. These are teams that are, being a Wake Forest fan my whole life, they're usually better than us. They're usually the top dogs in the ACC. What do you think we need to do to get the job done?
DS: This second half of the schedule is going to be really tough, but I think it's going to show just how mentally and physically tough we really are. Most of our team is healthy right now. We got a lot of great leadership coming from guys like Luke Masterson, Ja'Sir Taylor, Miles Fox, Sam, I can go on. The list goes on and on. We got guys who are hungry. We got guys who have been here before. It's all about just keeping our team close. And just taking it literally one day at a time. One day at a time, but we know it's a one-week season. Coach Clawson comes in every Sunday saying it's a one-week season. Boom, we're focused on Army for the next two weeks and then we move on. It's week by week. But we're more than capable of competing with those teams that we've struggled with in the past.
JD: What's your take on how your early season momentum can turn into getting the wins against your normally, but not now, superior ACC teams?
DS: I think that's just kind of gave us a lot of confidence. They tell us not to watch media, TV and all that, but come on now. You know we're gonna tune into SportsCenter. When you got everybody saying Florida State against us? That's only going to fuel the fire. 
JM: Everyone picked them to beat us on College Gameday. 
DS: It was six picks going against us. Nah, we're not going out like that. So when we came in that game, our first ACC game, a home game for us, we came in with the mentality like this is a new squad this year. You're not coming, messing around with no teams, we're gonna set the tone for this game. A.T. came out and balled, had like 140 in the first half, against his home state. He was hungry that game. We were just like, we need to set the tone, right now. Set the message that Wake Forest is here this year.
JM: I know a lot of people criticized the athletic department for scheduling Old Dominion and Norfolk State, two pretty easy games. But that got you guys rolling and in the mentality that we're a good team, we can win, and we can take care of business. I really liked that, and I think that's something that is really special. 
So, 16th ranked in the country, right? Have you ever been on a team like this? How high were you ever at Stanford? Have you ever been on a team like this that's got this much hype and excitement going for it?
DS: Crazy question. This goes back to high school man. We were 11-1, and played the best conference in the country, North Jersey. I've been at the stage before, but obviously at a much smaller level. And then at Stanford one year, my freshman year, we were at No. 7. Back when we had [Christian McCaffery].
JM: He was going crazy. 
DS: Yeah, he was. He was going crazy. Solomon Thomas was going crazy. So I've been here before. But it's definitely a much better feeling when I'm able to contribute more. And I'm just closer with the guys. We're all hungry, we all had the COVID year, a lot of adversity that we overcame together. So everybody coming back always makes it that much more special.
JM: What do you think is the team's goal for the end of the season? What are you guys looking towards? I know an ACC championship in Charlotte would be nice. What are your thoughts on that? What do you think going forward? What are you trying to achieve?
DS: Yeah, this year we literally have our eyes set on one thing, and that's going out with a chip. We are trying to get that ACC chip. Everything that we've done this offseason has been predicated on how are we going to take that next step? Our motto this year is "Good to Great". Coach Clawson harps on being intelligent, harps on intelligent players, high-character guys, and guys who give great effort, and pay great attention to detail. So when you got a collection of leaders who are building on that foundation from freshman year and now finally, fifth-year, sixth-year seniors, making sure the underclassmen get that, it's something special to be a part of. Why not us this year? Why not us?
JD: Going back to this record of 6-0, for the first time since 1944. What aspects do you credit the success to?
DS: I think a lot of success goes to the coaching staff. One of our strength coaches went to Vanderbilt after the season, so Coach Chad [Bari] took over. He's been here. He's been with Coach Clawson for some time. And just the offseason was tough. That was tough. After that Wisconsin game [the 2020 Duke's Mayo Bowl where the Badgers won 42-28], we had those 6 a.m. workouts in January and February.
They were brutal. They were brutal. We called it "the awakening". Brutal. Just nonstop competing. You're gassed out there. I'm at the last station panting, barely breathing. So it's moments like that when the receiver groups and all the other groups are kind of pushing each other or leaning on each other. We're all like, come on we got to finish through stronger.
And then that transitioned into spring ball. Now we're all competing against each other. Everybody's competing against everybody, everybody's competing against friends. It's tense. Then we, boom, go back to training. Alright, now we are grinding. Then, boom, now we go to camps. I think the coaches did a great job just kind of structuring the system in terms of how it's going to play out for the season. They've been doing this for you know, I'm saying but Coach [Ruggerio] has been in the game 30 years now. So, who am I to say about what he's telling us?
JM: I want to ask you about one last thing. You played with Davis Mills at Stanford, who balled out last week against the Patriots. You played with C-Mac. I know in high school, you played with Rashan Gary on the Packers. First off, who were some of those other guys that you played with and what's it like seeing them succeeding at the next level and being able to say "I played with them. I was on their team. I contributed." What's it like?
DS: In high school, I guess I really didn't realize how big of a deal it was to play with Rashan. We grew up with each other, played AAU Basketball and whatnot, so I saw him every day. I got videos of him in like 7th grade trying to do rap battles. [laughing] He can't rap. For him to really be the number one player in the country and draw that positive attention to our school is kind of what allowed me to get some looks. It was a blessing playing with him. He was my best friend in high school. I'm really happy for him, he balled out obviously. Jabrill Peppers was at PC. He was one of the pioneers for Paramus Catholic football. 
Then going out to Stanford out in Cali, C-Mac, Bryce Love, Justin Reid, Dalton Schultz, Mills. I call him Dr. Mills because he's surgical.
JM: He breaks down that defense.
DS: He's crazy with it. So, Davis, I would say is probably one of my favorite quarterbacks. He's just so calm, cool, and collected, but he also has that killer instinct. He knows exactly where to put the ball, how much pressure to put on it, like geez. He's legit. 
I'm really happy for all those guys' successes. C-Mac was just the boy my freshman year. Simple story, I just remember freshman year none of us have cars and stuff. He literally walks up to our table, doesn't really know us, and he's like, "yo, you guys need my Jeep? You guys can take the car to Walmart." He's a guy that is genuinely real.
Yeah, so it was great. They were cool to play with, but the experiences off the field like I said the rap battles and stuff like that really made my experience indelible.