What to do in Winston-Salem
Winston-Salem might seem like a sleepy town, but there's more to it than meets the eye
As someone who grew up a quick train ride away from San Francisco (indisputably one of the best cities in the United States), I was skeptical of Winston-Salem at first. However, once I looked beyond the surface, I realized that Winston has a lot to offer. Not only is it home of Krispy Kreme and the Hanes Underwear empire (yes, that's what the Hanes in Hanes Mall is from), the Reynolds Building downtown served as a blueprint for the Empire State Building (you can google it). Another highlight is the Wells Fargo Center, a 34-floor skyscraper nicknamed the "Trojan Tower" by locals. 
Regardless of where your interests lie, there is something in Winston for everyone. 
1. Explore the great outdoors
Winston-Salem and the greater Piedmont Triad are home to a wide range of outdoor spaces and hiking areas. As well as the trails surrounding Reynolda Village and Salem Lake, there are some great hiking areas within an hour of the city, including Pilot Mountain, Hanging Rock and Stone Mountain — which are 30 minutes, 40 minutes and an hour away from campus, respectively. Each offers incredible views of North Carolina's natural landscape and a range of other outdoor activities as well as hiking. Fall is arguably the prime time to explore the outdoors as the leaves change. As a California native, I'm still getting used to the phenomenon of seasons and the brilliant foliage of a North Carolinian fall never fails to entrance me.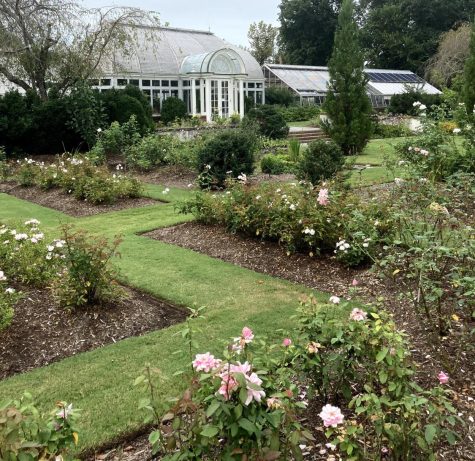 Other outdoor spaces include Tanglewood Park, which offers a wide range of recreational activities, and an annual "Festival of Lights" during the holiday season, as well as Quarry Park, which offers views over Quarry Lake and of the Winston skyline in the distance. If you're looking for something closer to campus, Reynolda Gardens and the accompanying greenhouse are absolutely beautiful, especially in the springtime. 
2. Go shopping
Regardless of whether you prefer the mall or the thrift store, Winston-Salem has you covered. Hanes Mall hosts 170 stores, ranging from the Wake Forest Fan Shop to a Build-A-Bear workshop. However, Hanes Mall also requires that any guest under 18 come with a chaperone, so if you're young for your grade, be sure to bring a friend. 
Thrift stores in Winston include two different Goodwill locations (one a 20-30 minute walk from campus), the MegaThrift (a favorite among Depop sellers in the area), as well as some trendier stores including Uptown Cheapskate and the Snob Shop. If you're feeling brave, you can pay a visit to the Goodwill Bins, which are less organized than a regular Goodwill store but incredibly discounted — you never know when you might strike gold. 
3. Go Downtown
Downtown Winston boasts a number of student-favorite restaurants like Cugino Forno Pizzeria and Krankie's Cafe, as well as a number of bars (but only if you're 21+) and shops. It's also home to Winston Square Park, a green space with an amphitheater that hosts everything from political protests to live concerts. 
4. Visit an art museum
If you know me, you know that I'm a huge art fan and never shut up about it (much to the chagrin of my family and friends). Winston offers a huge variety of museums and galleries, from the Reynolda House, which has both permanent and seasonal exhibitions and offers free admission to all Wake Forest students, to the stArt gallery (also in Reynolda Village), which displays and sells artwork made by Wake Forest students. Other museums include SECCA, which displays rotating exhibits of contemporary art and also serves as an event venue (last semester it hosted a Wake Forest student fashion show).
 5. Explore Old Salem
One of Winston-Salem's most famous landmarks is the historic district of Old Salem, which was settled in the late 18th century. It features a living history museum (think Colonial Williamsburg, but one state south), as well as other historic buildings and gardens, and is a must-see before you graduate. 
6. Take a day trip
If you're still not sold on Winston-Salem, other cities such as Greensboro, Asheville, Charlotte, Raleigh and Durham are all within a driving distance of two hours or less, and taking a day trip is a great way to bond with new friends.