The Killers' lead singer releases solo album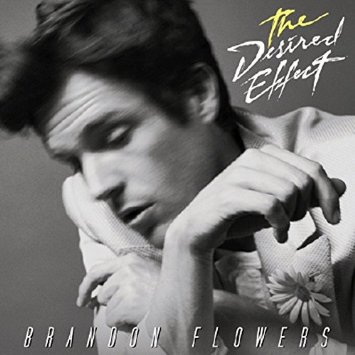 Though many may not be familiar with the name Brandon Flowers, they've probably heard his work. As the front man of the band, The Killers, he has produced hits such as "Mr. Brightside" and "When You Were Young."
While most current mainstream music consists of pop and rap, he and his group have managed to continue to produce popular rock songs. In his solo efforts though, he has deviated from his normal style.
His first album, Flamingo, leaned more towards an alternative style, but wasn't too different from something his band would put out.
The 2015 album, "The Desired Effect," is a large step away from The Killers, as it is a pop-heavy record. Here he shows off both his talent in writing lyrics and rhythms, even if they are not in a familiar genre.
When listening to the album, it is clear that the songs don't fit with what's on the radio today. Though the album is definitely pop, it sounds like something out of the '80s.
This is achieved by heavy use of synths, sound effects and bouncy rhythms. These are used to the extent that it feels like all the songs were not just sampling techniques from this era, but trying to fit right into it.
This is especially evident in the song "Can't Deny My Love," which features a booming chorus.
The song "I Can Change" then sounds like something The Pet Shop Boys would make. This seems to be deliberate, as lead singer Neil Tennant is featured in the song.
The lyrics follow this style of intentionally overdoing '80s features.
This is not to say that the words are cheesy and goofy like in many one hit wonders, but they are just as dramatic.
Songs like "Never Get You Right" and "Between Me and You" speak about everything in extremes, which serves to make them all the more powerful.
Fans of the conviction, often used in '80s songs, will love this aspect of the album, but those who don't may find this too be a bit much.
The record as a whole has a theme that has been done over and over again throughout nearly every musical era: love.
This consists of having it, losing it, but mostly wanting it. This can get a bit repetitive, but the diversity of approaches presented in this collection make it a refreshing listen each time.
"Can't Deny My Love" deals with frustration, "I Can Change" and "Lonely Town" talk about desperation, "Between me and You" and "Never Get You Right" focus on sorrow and "Still Want You" and "Untangled Love" are hopeful.
There is also a mix in the tones of each song. Some are wildly upbeat and fast paced, while others are slow and somber.
Overall this is a unique album that brings a lot to the table. It doesn't feel like something from our decade, and even though it uses a host of '80s techniques, it doesn't sound like it belongs there either.
The mix of old and new alongside Flowers' powerful voice and lyrics creates a new sound that will hopefully be present in his next work. This is also the rare record where I like every song.
I love the '80s style and dramatic lyrics and rhythms, so this is definitely very biased. I do think, however, that the album has a song in it for everyone.