JPEGMAFIA and Danny Brown are scaring the hoes
What to expect in the pair's new album
After long-awaited anticipation, JPEGMAFIA and Danny Brown — rappers out of Baltimore, Maryland and Detriot, Michigan, respectively — released their debut collaborative record, "Scaring The Hoes Vol. 1" on March 24. With many similarities when it comes to performing abstract underground hip-hop, clever songwriting and a left-field approach to rapping, this is a duo that fans of both parties knew could happen. With a tracklist featuring songs titled "Steppa Pig," "God Loves You" and "Jack Harlow Combo Meal," it is an enjoyable ride.
JPEGMAFIA, also known as Peggy, is a Brooklyn native now out of Baltimore that has amassed a die-hard following among underground hip-hop fans. A rapper who produces all of his own music is attractive in itself, but his abstract song structure, intriguing use of samples and clever bars, paired with a distinct delivery, all contribute to a truly one-of-a-kind artist. His 2016 debut record "Black Ben Carson" announced himself as a fascinating breath of fresh air in the hip-hop world. Since then, he's amassed a catalog of six records, all acclaimed by fans and critics alike.
Not afraid to confront the status quo in hip-hop and explore taboo topics, Peggy balances the line between seriousness and humor like Philippe Petit between the Twin Towers. In his record "Black Ben Carson," Peggy has a three-track run consisting of "Black Ben Carson," "Black Steve Austin" and "Black Stacey Dash." If you're thinking, "aren't Ben Carson and Stacey Dash Black, though?", you would be correct. However, the two have caused controversy among some members of the Black community due to their strong conservative views and sympathy to Donald Trump, notably with the pair making themselves a mainstay on the Fox News Network. Peggy sees the pair as "traitors" to Black people as a result of their support toward ideologies and policies that he thinks do not benefit the Black community.
In a response to the racial commentary surrounding "Black Ben Carson", Peggy told Impose Magazine, "When people think of racism, it's usually just that redneck, right wing, clan hoody, obvious s***. But they don't talk about the subtle s***. The liberal racism that can affect you in the same way. I wanted to be the vanguard to fight that, like I'm here and that is not gonna fly anymore."
"Black Steve Austin" references the famous (or rather infamous) WWE star Steve "Cold" Austin. Similarly to the previous two tracks mentioned, Peggy continues to confront racial stereotypes in society; this time toward a white man. In 2002, Steve Austin was convicted of abusing his wife, and Peggy highlights the lesser punishment given to him in comparison to someone such as Chris Brown, concluding that "the only difference is Steve pale, Chris Brown." While a talented and experienced producer, Peggy shows that he can carry his weight lyrically as well; specifically when it comes to controversial topics.On this record, expect the production to be heavily carried by JPEGMAFIA, with more of a tag-teamed approach to vocal performances.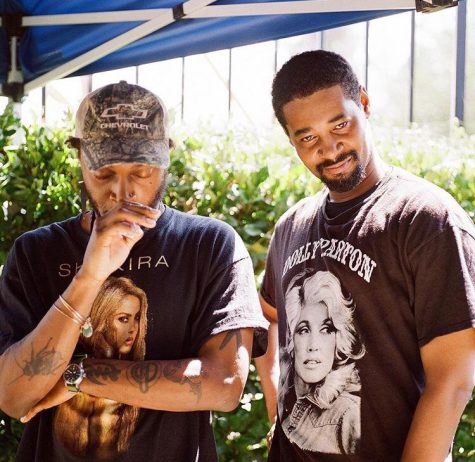 Speaking of Danny Brown, the rapper has already had a reputable career. From his 2012 XXL Freestyle to his "XXX" album of the same year, Danny Brown has since worked with the likes of Kendrick Lamar, Gorillaz, A$AP Rocky, BROCKHAMPTON, Eminem and even Korn. Considered an underground hip-hop legend (and a hip-hop legend in general), Danny Brown reps a punk style both in clothing and sound design — blending his love of old-school hip-hop and rock to create a balance of dark, heavy sounds with subdued hip-hop beats. He possesses an infectiously charismatic personality and a unique, high-pitched rapping style, which pair perfectly with his clever and skilled rhymes.
He's also quite the comedian and openly displays his odd sense of humor via bars and commentary on tracks — even recently making his stand-up debut in 2021. The highlight of his career came with what many would consider his magnum opus, the 2016 album "Atrocity Exhibition." Referencing the Joy Division track of the same title, Danny Brown showcases his range of emotion and depth in songwriting and production throughout this album. With his last solo record "uknowhatimsayin¿" released in 2019, "Scaring the Hoes Vol. 1" is his first full-length project in four years.
Acknowledging the context behind each artist both sonically and ideologically, it makes sense as to why the two would team up for this record. Expect the record to be fun, forward-thinking and outlandish at times with traditional hip-hop characteristics that will be nothing less than spectacular — at least if you're in any way an admirer of hip-hop.