The Buzz on Twin City Hive Coffee Lounge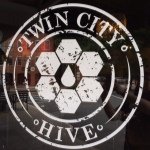 Metropolitan energy meets southern hospitality on the corner of Brookstown Avenue in downtown Winston-Salem.
Quietly tucked away, Twin City Hive is the talk of the town.
In addition to owning a segway tour company, partners Joey Burdette and Terry Miller opened Twin City Hive Coffee Lounge in 2014.
Ironically, the duo met at a Starbucks in Raleigh, N.C. After a marriage ceremony in the Metropolitan Museum of Art, the two began their lives — and careers — together.
Iced-coffee in hand, I made myself comfortable on the chic red couch and caught up with Burdette.
You are a fairly new business having opened in 2014. Tell me a bit about how this all began.
When we originally opened Twin City Hive, Terry and I owned a segway tour company. Along the route, we would stop at local businesses just to take breaks, and one of the places was a chocolate shop on Burke Street. We got to know the people who owned the shop and decided to combine forces to open Twin City Hive. A few months in, Terry and I became sole owners. Last October, we sold the segway company so we could focus our energy here.
The atmosphere is very edgy. Was there a particular vibe you guys were going for?
Terry has a background in design, and I am good with space planning. The center area is called "The Lounge" and it is meant to have dim lighting and intimate conversations by the fireplace. The most popular seat in the whole place is the darkest corner; it's always the first to fill up.
Was there a reason you picked a location on Brookstown Avenue?
Initially, it was beneficial to have the segways near a central area where we could go through Old Salem and Downtown. But, for the coffee shop aspect, we are in an area near a lot of young professionals. It's really important that we are near a youthful and dynamic energy.
Were there any particular obstacles you had to get through to get to where you are?
Coffee is a habit-based business. So, until you get people to get in the habit, it is sometimes hard to get them to branch out.
Where do you get your coffee?
We have a unique multi-roaster model. We get our coffee from six roasters throughout the state. We have developed relationships with all the roasters. In a few minutes, Tyler is bringing up a delivery from Perfect Blend. He roasts our espresso, Twin City Hive bold and light roast.
Do you recommend different drinks for different types of customers?
Absolutely, when someone comes in and asks for a cup of coffee, there will be follow up questions. Do you go for light or dark roast? Do you like more acidity or more caramel?
So, if I order a black iced coffee, like I did today, what am I getting?
We have a nitro cold brew. The iced coffee is in a keg and it is infused with nitrogen so it comes out with a head like one that would be on a Guinness. We go through a keg every three days. It's one of our most popular drinks.
That seems really unique. Do a lot of shops do this or is it particular to Twin City Hive?
We were the first to bring it to Winston-Salem. The first time I saw it I was mesmerized because we were doing cold brew but it's not the same as when the nitrogen is infused.
How do you feel like you are different from other local coffee shops like Camino and Krankie's?
I think we offer things that make us unique among the other shops. For us to even be mentioned with Camino and Krankie's, who have been around forever, is a great honor. We fill our own niche here as a neighborhood coffee shop.