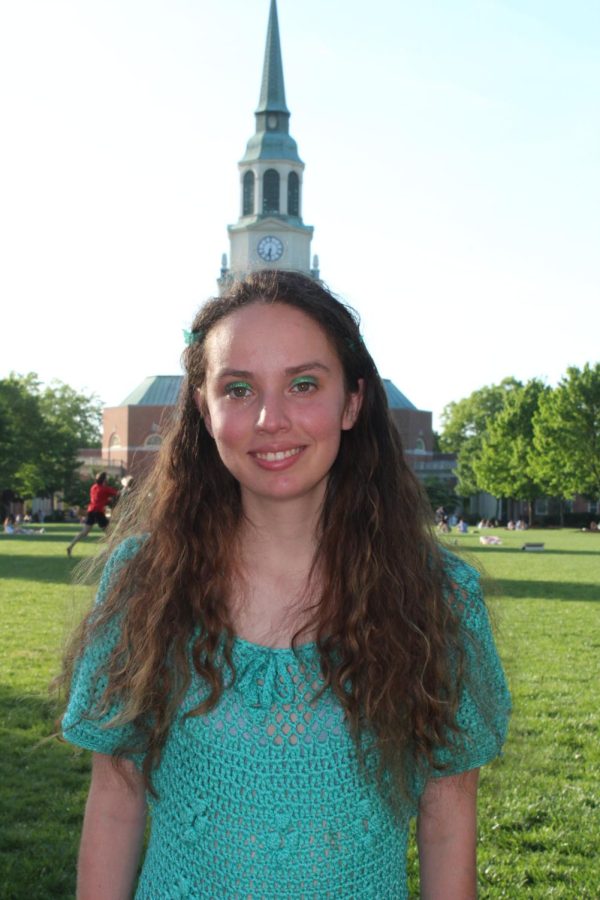 Anthropology: Gabby Valencia
After taking a gap year, Gabby Valencia hopes to attend graduate school for museum studies or cultural anthropology.
"I'm ultimately interested in museum curation," Valencia, who is also minoring in Latin American studies, English and history, said. "Really, I'm just taking the summer to figure it out." 
Valencia will be spending the summer back in her hometown of Los Angeles, Calif., where she plans on getting additional internship experience under her belt before furthering her education. Her decision to move back home was influenced, in part, by her appreciation for family and her desire to be close to her loved ones.
"My grandparents immigrated, and they worked really hard to build something there," Valencia, a first-generation college student, said.
Growing up, Valencia lived with her grandparents and her parents all under the same roof. The constant bustle of her home is something she talked about fondly.
"It was really nice growing up in a super busy household," Valencia said. "I've always kind of been exposed to the idea of really hard-working women."

"Education has always been a really big part of my upbringing," she added. "There's this whole idea of, 'We work really hard for you guys to do something that you want to do,' so they've been very supportive."
Moving back to Los Angeles will be helpful for Valencia as she transitions into the professional world, with the city being home to many career opportunities.
"In terms of career, there's just so many museums there," she said. "George Lucas is opening this year, the Academy of Motion Pictures, some natural science [museums], as well. [There's] just a broad range."
Valencia has had experience working with some of the museums in her hometown, including the Museum of Latin American Art in Long Beach, Calif.
"I was kind of like a camp counselor for this art and activism program that they were having where the kids are making their own crafts," Valencia said. "And then what was really cool was, for a week, I got to shadow the collections department and put up an exhibit called 'Rethinking Essential' with the artist Narsiso Martinez."
She continued: "He was illustrating migrant farmworkers on used produce boxes. So when people would look at it, they have to be reminded of the labor that goes behind the produce that we eat. So that was really awesome." 
In her time at Wake Forest, Valencia has assisted in research and curation of various art exhibits at the Timothy S.Y. Lam Museum of Anthropology on the Reynolda campus. 
"A lot of my favorite exhibits have to do with Mexican identity," Valencia said. "It guides a lot of my academic research — and not just Mexican identity, but Latin American identity as a whole."
She continued: "It's so broad, so I'm learning everything that I can. When you do an installation, it's going to be a lot more focused, like 'What do I want the public to take away?' Because you can't put every single thing you've researched into an exhibit."
Valencia has also been positively shaped by her time at Wake Forest due to her ability to explore her identity as a queer Latina. 
"I definitely feel a lot more comfortable in my queerness, and that was something I was wrestling with a lot during high school," Valencia said. "I felt out of touch from the ways my cultural identity has shaped me — just not being constantly around Spanish, Mexican food or telenovelas."
Despite the difficulties brought on by this disconnect, Valencia feels as though this is ultimately what led to her interest in Latin American studies as a minor, and Latin American art as a point of focus in her research and future career. As she returns home, she will look back on her time here with fondness and look forward to her future with optimism.
"I'm gonna miss Wake Forest a lot and the space that I built here, but there are good things [back home], and I'm really happy about being home and moving back to Los Angeles," Valencia said.