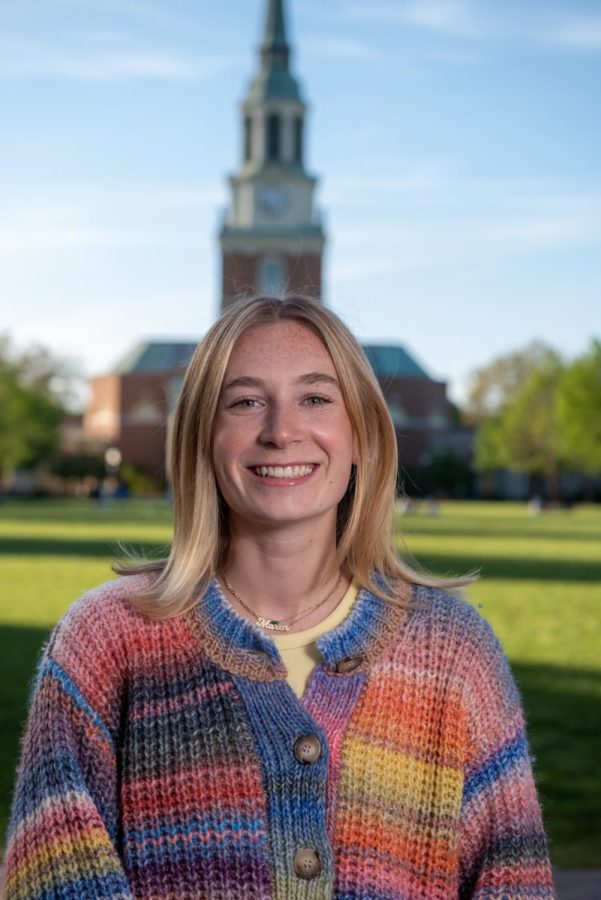 English: Maren Beverly
Maren Beverly's favorite classes have always been her English classes. Hailing from West Hartford, Conn., Beverly described her high school English teachers as incredibly strong and inspiring and credits them with motivating her to become an English major in college. 
Throughout her time at Wake Forest, Beverly has made an active effort to take a variety of classes within her major in order to explore as many facets of the department as possible. These have ranged from specialized classes focusing on Irish drama to classes regarding writers during the Renaissance period. She is fascinated by how her major can encompass the study of forms of writing while simultaneously including political history and issues pertaining to marginalized communities.
While she enjoys the diversity of subjects, her favorite thing about her major has been her professors and how passionately they have taught. Professor Laura Mullen, her honors thesis adviser, has had a significant impact on her over the course of her time at Wake Forest. 
"Brilliant and humble, strong-minded and yet vividly open to the world, Maren Beverly is one of the most talented, dedicated, serious young writers I have ever met," Mullen said. "Her thesis, 'Memory Box,' is a complex and gorgeous hybrid genre work, seamlessly blending photographs, poetry and fiction into nonfiction to create a profound meditation on time, memory, place, and grief."
Mullen continued: "She works from a deep-rooted love of the land and a rich sense of history (steeped in violence and infused with romance), which is particularly American. I know I will be reading Maren Beverly's work— learning from it and delighting in it— in the years ahead."
Beverly has long since nurtured an interest in creative writing. She remembers keeping a journal in elementary school which she'd fill with fictional stories of her own creation. This continued hobby led her to a fascination with short stories. She particularly likes Raymond Carver's collection of short stories, "What We Talk About When We Talk About Love." 
She also enjoys being able to evaluate pieces of literature in and of themselves and discern things about them outside of her subjective tastes. She believes her major has given her a habit of picking apart and analyzing everything she reads, a skill which she describes as a double-edged sword, but one for which she is ultimately grateful.
Beverly aims to work in fashion after graduation and wants to move to New York City to pursue her goals. She talked about how her experience studying English as an undergraduate helped prepare her for this new chapter in her life by sharpening transferable skills such as producing articles and bodies of work. Furthermore, she describes how studying English taught her how to analyze and identify trends in varied artistic mediums, be it a 17th century text or a modern runway show, which are representative of an overarching artistic culture. 
"Just being attentive to detail and really diving into a piece of culture or art allows you to look at something critically and interpret your own meaning as well as a larger world meaning," Beverly said. "I would consider both literature and fashion to be art."