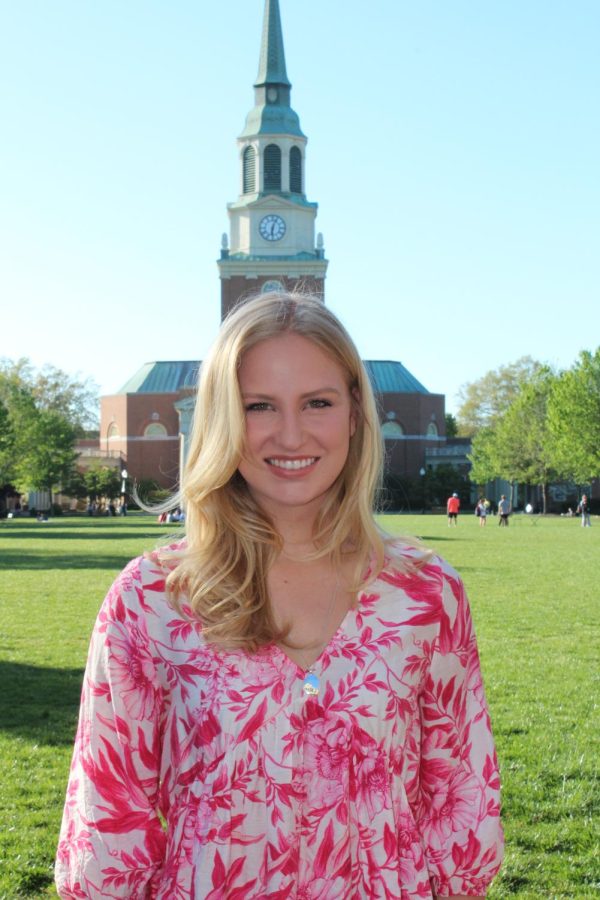 Engineering: Julia Powers
Whether she was conducting science experiments in her kitchen, helping her older brother build things in her garage or building things on her own, Julia Powers grew up with a love for creative problem-solving. 
She also always knew she wanted to do something in STEM.
Traveling to Winston-Salem all the way from California, Powers was drawn to Wake Forest's engineering program both for its smaller liberal arts setting and its unique approach to its curriculum.
"The way that Wake Forest does it, it's a lot more breadth than depth in engineering," Powers said, "So I was able to get a taste for multiple different types — whether it was biomedical or environmental or structural — a ton of different types of engineering, so I loved it even more."
Through its offering of interdisciplinary electives, the Engineering Program gives students the option to pursue a concentration in a specific field of engineering through deeper, more technical coursework.
But when Powers — who had originally planned to pursue a concentration in Biomedical Engineering (BME) — took a painting class with Professor Page Laughlin in her sophomore year, she decided to pick up a second major instead. Double majoring in studio art, Powers began using her creativity in ways that overlapped between her two disciplines.
"What art does is it pushes you to think unconventionally, and it pushes you into the abstract — into ideas that you had never thought of before," Powers said. "Being able to apply that to engineering, where you're constantly thinking theoretically or analytically, or very step-by-step […] I loved being able to combine both because I was able to come up with super creative solutions and then figure out a way to make them happen through engineering."
For her capstone project, Powers worked with a team of engineers to create an objective sideline concussion test for athletes. Currently, most sideline concussion assessments use subjective measurements of symptoms, asking athletes to rank their feeling of pain or nausea with a number that may not be representative of a concussion. With her team, Powers has worked to computerize the process, removing the need for a trainer and creating a more objective standard. 
"Julia was always ready to get to work when needed to push the project forward and took the initiative to go the extra mile," said Dr. William Crowe, an engineering professor who first taught Powers in her junior year and has worked closely with her capstone team. "She brings so much to the table with both her problem solving strengths and her artistic abilities that bring a greater state of polish to her prototypes and creations. She is persistently curious and really stands out due to her fearless pursuit of solving the problem or understanding the topic at hand."
When asked to reflect on what engineering has taught her, Powers described how she has grown from being the independent youngest of three to becoming a more inclusive and collaborative leader.
"I would want to just take these ideas that I would come up with and run with them and not always talk them through with other people," Powers said. "So instead of being more of the leader that kind of just does everything, I've really had to learn to just take time to listen to everyone — to hear all their ideas, but also to creatively combine everyone's ideas into one final product — which, there were many projects that I had to go through to learn that."
In her four years at Wake Forest, Powers has also worked as a residential adviser, a teaching assistant and a resident artist of Hidden STEM. She is a captain and the president of Club Volleyball and is also involved in Greek life. After graduation, Powers will rejoin Corning Optical Communications — where she had an internship last summer — to work on fiber optics.