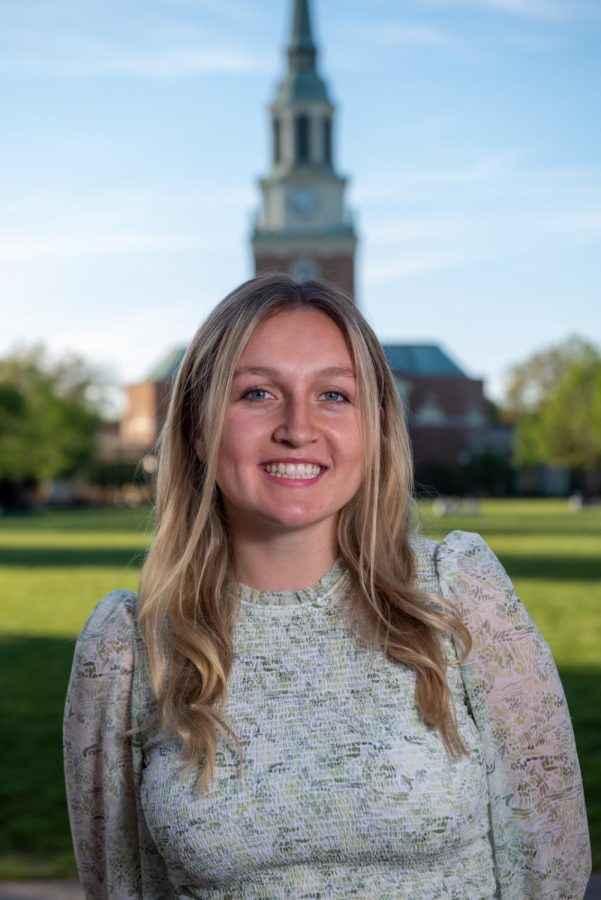 Environmental and Sustainability Studies: Meredith Power
Meredith Power sees sustainability in every aspect of life. Whether through the environmental communication skills she's honed through courses at Wake Forest, her participation and subsequent leadership of the Office of Sustainability's Sustainability Leadership Group (SLG) or taking pictures outside in her free time, sustainability is omnipresent.
When she arrived on campus in fall 2019, Power anticipated studying biology at Wake Forest. That plan, however, fell through early on in her freshman year when she took Chemistry 111, a required class for the biology major. 
"I'm not a chemistry girl…I'm a biology girl, an ecology girl," Power said of her scientific interests.
In the meantime, Power picked up a communication major after taking a film class and falling in love with the subject, but the outside world never strayed far. 
After participating in SLG as a first-year and leading the group the following year, Power knew she wanted to remain involved with sustainability and environmentalism. Thus, when the environmental and sustainability studies major was announced, Power immediately knew it was her path.
Power's passion for the environment didn't begin at Wake Forest, though. As a child in California, Power recalls learning about the importance of composting, recycling and caring for the earth. When she arrived at Wake Forest, though, Power realized that not everyone's upbringing reflected those ideals.
"Coming to Winston-Salem from just south of San Francisco was a little bit of a culture shock," Power said. "This was the first time I encountered people who didn't believe in climate change at all, and that was shocking to me…it reaffirmed how much I cared about sustainability." 
To Power, sustainability isn't a stand-alone subject. 
"You can relate anything on this campus and in your life to sustainability and the environment…nothing exists without the world around us," Power said. 
Environmentalism is so important, in fact, that Power argues that there should be a course requirement that incorporates the subject.
"My dream would be for there to be a sustainability divisional that everyone has to take," Power said. "Taking an environmental studies class might change your perspective." 
At Wake Forest, Power's perspective has been altered and re-adjusted time and time again through courses taught by Vice President for Human Resources and Sustainability Dedee DeLongpré Johnston, journalism professor Justin Catanoso and others. Through those courses, as well as other coursework in communication, education and film studies, Power's passion for sustainability has grown. 
DeLongpré Johnston's "Leadership for Sustainability" course was particularly impactful for Power. 
"['Leadership for Sustainability'] really pushed me outside of my comfort zone," Power said. "We learned about the organizational structure of business and design thinking. It was impactful to me because of the diversity of media we looked at and topics I hadn't discussed in the classroom before." 
After graduation, Power will begin work for an environmental, social and governance (ESG) firm in her native California. The sentiment of maintaining one's own wellbeing while fighting for a more sustainable world will certainly be at the forefront of Power's mind when she begins her career. 
"The most significant thing [I've learned] is how to balance optimism with realism when it comes to the climate crisis," Power said. "…Being able to preserve your own happiness while working toward the greater good is really important."