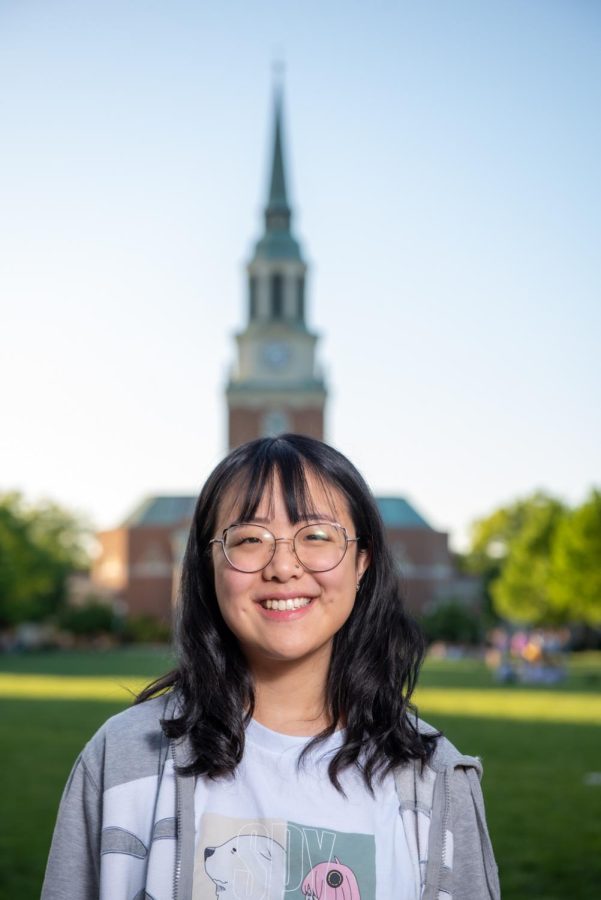 Theatre: Nicole Liu
As a double major in theatre and biology, Nicole Liu is used to getting confused — but intrigued — looks when telling people about her studies.
"I always start out with, 'I have a bio major,'" she said, "And people will be like, 'Okay, bio major.' And then I'm like, 'I have a theatre double major' — and that's when they start to show their interest."
Liu chose Wake Forest because of its good reputation in biology, saying that, back then, she "wasn't really looking at the arts" in her decision process.
"I've been pre-med for four years," she said, "And I really thought I was going to do medicine."
In fact, theatre started out, more or less, as something on the side "if there was enough time." Things started to change, though, after Liu took the MCAT and got all of the paperwork together for medical school.
"I was like, I want to wait," she said, "Because medical school is a lot of time and a lot of money — it's another 10 years out of my life." 
But this was also the moment in which she started figuring things out.
"I realized then that theatre is the thing that makes me really happy, and it's the one thing that made me grow. It's what I'm really passionate about."
Liu grew up in China, where she trained as a ballet dancer, and she said that her interest in acting began when she went overseas to attend a boarding school in Maryland. She performed in her first play as a freshman, where she played the role of "mover," a part that she remembers — with a laugh — as only having one line. It wasn't until her junior year of high school that she took on a lead role in a performance of Agatha Christie's "Mousetrap."
"I got the lead for that and I was like, 'Oh, acting is so much fun,'" Liu said.
While Liu has been involved in many different aspects of theatre, she is currently most interested in directing. She recently directed "Unborn," a show for the Bimoo Chinese Theatre Group. 
"Her artistic and organizational skills were both on display in the beautiful Chinese language theatre production she recently directed," said Dr. J.K. Curry, one of Liu's closest mentors on campus.
Ruminating on what it means to be a director, Liu said that "a director is someone who tells a really good story and that the concept of the director eventually will get reflected by the performance itself." 
Liu certainly can tell a good story. Her eyes lit up as she recounted her time abroad in London, where she was able to attend 23 shows in five weeks. What stuck with her most, though, was her odyssey in Cheshire, as she scoured Lewis Caroll's hometown to take photographs of his beloved characters. A self-proclaimed "huge fan" of "Alice in Wonderland," Liu said she walked around the town for six hours to get every picture of every character in the story, even though she was wearing uncomfortable shoes and carrying a heavy backpack. 
Right now, as her time at Wake Forest comes to a close, she's searching for a way to incorporate both theatre and biology into her life, as disparate as they may seem from the outside.
"I want to do both," Liu said. "But right now, as I'm looking for jobs, it's hard to find categories that allow me to do both."
After graduation, Liu is heading back home to China, where she will relax before beginning a summer job in New York in June. While she is taking a gap year, she plans to return to school shortly, where she will pursue a master's degree in either theatre or biology. She's optimistic about a third option, though, drama therapy. 
"There are a lot of options that I'm looking at," she said, excited about the possibility of pursuing both of her passions.