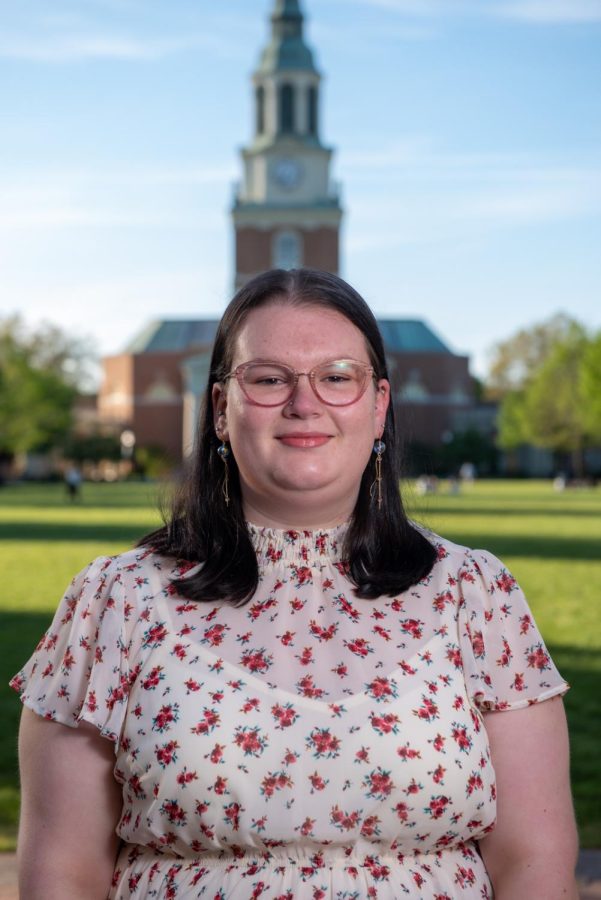 Women's, Gender and Sexuality Studies: Ashley Davis
Growing up in North Carolina, Ashley Davis had times where she felt like a bit of an outcast. 
"I identify as a lesbian, and growing up in the South, it wasn't always great," Davis said. "That pushed me toward looking into gender and sexuality, and that led me toward [women's, gender & sexuality studies (WGSS)]."
When she toured Wake Forest after she was admitted in her senior year of high school, Davis immediately fell in love. In the four years that have followed, Davis has made a home for herself in Winston-Salem. 
After arriving on campus intending to major in politics & international affairs, Davis instead chose WGSS. After taking the class "Perspectives in Gender and Sexuality," Davis was drawn to the program and, in her own words, "the rest is history."
As far as history goes, there was plenty of that, as well. Davis also majored in history and minored in African American studies. Outside of academics, Davis' time at Wake Forest has also been marked by her involvement in the band program on campus. 
"It's hard to tell the story of my time at Wake Forest without talking about how I was in [The Spirit of the Old Gold and Black] and Kappa Kappa Psi national honorary band service fraternity," Davis said. 
There, Davis found community and fostered her love of music. That passion is reflected in the capstone project that she undertook for her research seminar course.
"In my capstone seminar, I got to write about Black female musicians Lizzo, Megan Thee Stallion and Cardi B… I really enjoy working on those contemporary pop culture frameworks through what I've learned in WGSS," Davis said. 
Davis' project focused on music videos, image and sexuality.
"I was exploring the way Black women musicians counter the politics of respectability through music, aesthetics and particularly their music videos," Davis said. "…These women were using their music to reclaim their sexuality as Black women."
In addition to her capstone project on Black women musicians, Davis has expanded her interest in adjacent topics through her senior history research on marching bands at Historically Black Colleges and Universities (HBCU). 
Sexuality, race and gender are all some aspects of intersectionality — a framework pioneered by scholar Kimberlé Crenshaw that Davis says is one of the most important things she learned studying WGSS. 
"The biggest thing [I've learned about is] intersectional feminism and intersectional approaches to our work…the importance of looking into the intersectionality of race and gender and sexuality prompted me to minor in African American studies," Davis said. "You have to be aware of all of these different structures to make sense of them as a whole." 
Davis looks back fondly on the professors from which she had the opportunity to learn during her time at Wake Forest. In particular, she is grateful to her WGSS adviser Dr. Kristina Gupta, Provost Michelle Gillespie and African American Studies Program Director Dr. Corey D.B. Walker for their guidance. 
"Dr. [Corey D.B.] Walker was a godsend in helping me get into grad school," Davis said. 
Following graduation in May, Davis will pursue a master's degree in WGSS at the Ohio State University. There, she hopes to expand upon her knowledge of the subject by delving into scholarship related to reproductive justice, queer theory and women of color. 
In addition to furthering her own education, Davis will also play a part in educating undergraduates during her time at Ohio State, where she will serve as a teaching assistant. As she looks forward to the next phase of her educational journey, Davis is nervous about finding a home in Columbus, farther than she's ever been from home, but she remains excited to teach. 
"I get so passionate about these topics, and I'm so excited to share that with freshmen taking an intro class. That's exciting and, in turn, scary," Davis said.