New construction on campus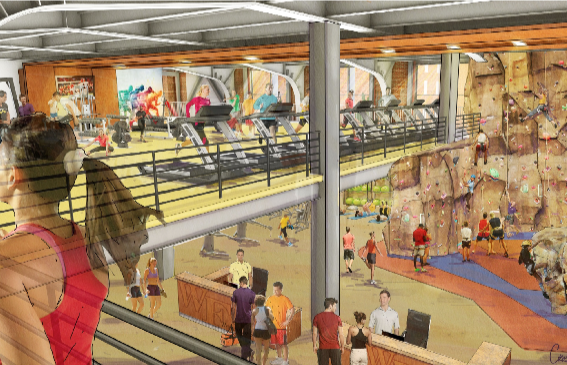 In the midst of a $625 million, 10-year construction project, Wake Forest is committed to offering students new, state-of-the-art facilities.
President Nathan Hatch explained his dedication to the wide range of projects underway.
"Wake Forest is determined to deliver the premier face-to-face liberal arts residential community, and our strategic vision includes investing in spaces that enhance all aspects of our students' wellbeing," Hatch said.
As campus construction begins on buildings that target aspects of wellbeing, students benefit academically, athletically as well as in on-campus housing.
Perhaps the largest construction projects are the new Sutton Athletic Center and the renovations on the preexisting Reynolds Gymnasium. The first phase of the Sutton Center was completed this winter.
"It has two full-sized gymnasiums, an outdoor pursuits center, two connector atriums and is equipped with an abundance of natural light, new scoreboards, state of the art sound systems, digital signage, informal fitness spaces and lounge areas for student interactions," as posted on the Campus Recreation website.
The second phase of athletic construction includes renovations to the preexisting Reynolds Gymnasium. Renovations are intended to recreate the building into a space for modern intellectual and athletic growth.
"Building on the themes of wellness and wellbeing, the renovation will include the addition of amenities such as a two-level climbing wall, a demonstration kitchen, a juice bar, space for yoga and meditation as well as fitness equipment and space," said Owen Covington in the Triad Business Journal.
The updated Reynolds Gym space is expected to reopen in early 2017, and phase three will follow when renovations to the pool area begin.
Construction expands beyond athletic facilities, as ground is broken building and renovating residential facilities. A new south campus freshman dorm is expected to open in the winter of 2017 and will closely resemble South Hall.
"The four-story, 220-bed building will total 75,000 square feet. It will be a double-loaded corridor style structure with a mix of single and double rooms," as reported by Wake Forest news in an article by Bonnie Davis. "The residence hall will support Wake Forest's vibrant student residential community with kitchen and study areas on each floor and amenities such as large recreation lounges."
Additionally, the still unnamed freshman dorm will hold a high level of commitment to the environment. The new residence hall will be energy efficient as it meets the same LEED (Leadership in Energy and Environmental Design) standards as South Hall.
In addition to the new freshman dorm, renovations have also begun on the original dorms located on Hearn Plaza. Last year, restorations were made to Kitchin Hall, while this year Poteat and Huffman will receive the same updates. Renovations include upgraded HVAC and electrical systems, renovated bathrooms and new building control systems. 
Although it may be frustrating to see construction tape, walk through clouds of dust and hear loud hammering early in the morning, the work being done on campus will contribute to an enhanced living experience at Wake Forest.