Livin' la vida broke-a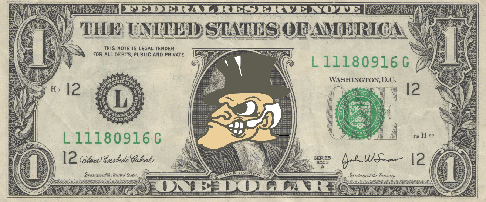 In a world of everlasting student loans, societal debt and pay checks that never seem to arrive fast enough, this poor college student has a few tips on mastering a little something I like to call savings.
Online Necessities
Every Wake Forest student needs a little musical pick-me-up at 1a.m., the day before a big paper is due. Spotify has a 50 percent off discount for Spotify Premium if you sign up using your Wake Forest email address. This means you pay $4.99 a month instead of $9.99 while still getting all the great benefits of having Premium.
On week three of classes, there's always a few of us who still haven't managed to buy all of our textbooks. But with that test coming up, it might be time to bite the bullet. Amazon Student is free if you sign up using your Wake Forest email, and let's be honest, that three-day shipping is a life saver.
Food Necessities
As a Wake Forest student, you may find yourself lacking vital nutrients as you choose between lunch and studying before class. Harris Teeter offers a 5-10 percent student discount if you show your Wake Forest student ID card at check out.
Another great option, and my personal favorite, is the local ALDI. It's a smaller store with some of the best prices for groceries in the area. At ALDI, there is no student discount, just great prices. If eating in is not your style, there are also some great restaurants that offer discounts.
Camino Bakery in downtown Winston-Salem offers a discount on their drinks if you bring your own mug. Brynn's Frozen Yogurt offers a student discount if you show them your Wake Forest student ID. If you have not already, like them on Facebook to get a free cup of frozen yogurt.
If Thai food is a weakness of yours, make sure to visit Thai Sawatdee, a local place where two people can eat for around $10. Can you say, "cheap date night"?
Mama Zoë Michael's is another pocket-friendly hit that offers home cooked meals in huge portion sizes. If you stop in, make sure you wear some pants with an elastic, or what I like to call my "fat pants."
Entertainment
Are you tired of spending your weekend on campus and need a little break from your favorite fraternity? Tuesday nights are college night at the Airbound Trampoline Park if you show your Wake Forest student ID. Wall-to-wall trampoline shenanigans with friends sounds a lot better than a sweaty fraternity basement.
The Carmike movie theatre offers a student discount if you show your Wake Forest student ID at the ticket booth.
If you're like me and you like activities that require no money at all, go visit local attractions like the shell-shaped Shell Gas Station on E Sprague St. It's a unique photo spot in Winston-Salem that's perfect for lots of laughs because it's a bright yellow building shaped like a giant scallop shell. There's not much to actually do there, but half the fun is the journey.
Another free attraction is Salem Lake. Although it is currently under construction, the walking trails  —  seven miles of trails around the pristine lake — are still open to the public.
The Southeastern Center for Contemporary Art is another local gem that features a large gallery of modern art, and admission is free to the public. Even better, it's just down Reynolda Road from Wake Forest campus.
If you find yourself still grasping for weekend adventures, go visit historic Old Salem, where the only money you are required to spend is on a sleeve of Moravian cookies.
Clothing
Recently I was introduced to the wonders of Mega Thrift, a local used clothing store where I found my favorite party hat. There isn't a student discount but t-shirts are 99¢.
If you are not one to stray away from what you know, there is always the old faithful, Goodwill and the one on University is huge. 
If you have a job interview coming up, or you're in the market for clothing that hasn't had a previous owner, check out Express in Hanes Mall. Express has a year-round 15 percent off student discount if you show your Wake Forest student ID when you check out.