Women's soccer drops Boston College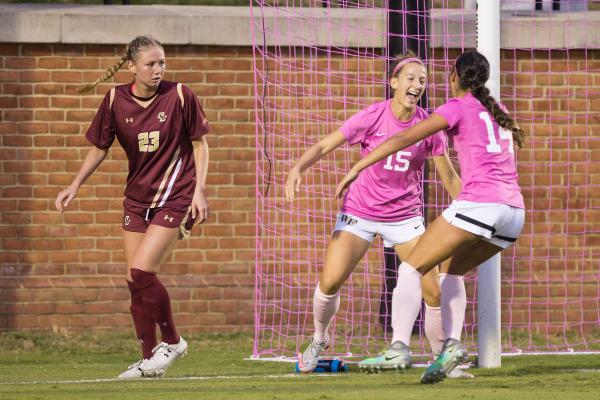 The Demon Deacons took on No. 25 Boston College on Saturday in hopes of achieving their first ACC win.
The Atlantic Coast Conference is packed with exceptionally talented teams for both women's and men's soccer. The Boston College Eagles are no exception, as they are a top 10 team in scoring nationally. So far this season, they have outscored opponents by a 36-15 margin.
In the last meeting between Wake Forest and Boston College, the Eagles claimed a 2-1 victory in double overtime from a McKenzie Meehan penalty kick.
"We had to take care of Meehan and Dowd, who are just amazing players," said Wake Forest head coach Tony da Luz. "They score goals, and to get a shutout against BC, it doesn't happen very often because those guys are usually good for at least a goal a game."
This year, the Deacs proved to be far more fierce than BC expected. After a scoreless first half, Wake Forest charged into the second at full speed.
"We had to take advantage of our chances since we had them on their heels for the whole game. It was a matter of taking control and someone doing something big and getting a goal," said senior Caroline Wooten.
The Demon Deacon offense did something big indeed. In the 77th minute, Wooten took a cross from junior Kahla Seymour in the left side of the box and fired it into the net. Five minutes after their first goal, junior Maddie Huster aimed a powerful corner kick perfectly, and sophomore Reci Smith headed it past BC goalie Alexis Bryant.
"We talked a lot about how we wanted to bring a lot more energy and fun to the game. We were almost being too serious about the way we were playing and just thinking too hard," Wooten said.
Their new strategy proved to be extremely effective. For the next seven minutes, Wake Forest held the score at 2-0 and achieved a triumphant shutout victory against the Eagles.
"We're elated and relieved," da Luz said. "We've played well in a lot of games, and in some games, we deserved a better result. Tonight, I thought we were the better team for the majority of the game, and we deserved the win. I'm really happy for Caroline and Reci to get those goals. They've been working really hard."
Although the Deacs have faced great challenges in their last six games, their confidence and commitment never wavered. They are one crucial step closer to their goal: making it to the ACC tournament,.
"It's a turnaround for our season," said sophomore Bayley Feist. "We've had trouble in the ACC, and winning a big game like this will put us back on the map. We just have to keep winning, keep improving our game and keep putting our shots in the back of the net."
They have a great chance at playing in the most competitive tournament in the NCAA — as long as the win the rest of their regular season games.
"We still have hope," da Luz said. "The kids have not given up. They just come to practice every day and work hard and keep pushing, so I'm really proud of them."
On Oct. 20, the Deacs will host Syracuse, who sits just above Wake Forest in the ACC rankings at 7 p.m ET.