King's Bill Hodges trilogy comes to a close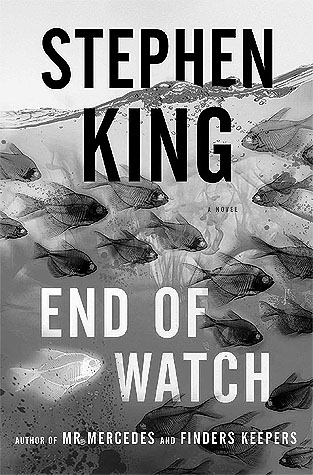 Stephen King's "End of Watch," his 55th novel and the third book of his Bill Hodges trilogy, came out this summer and did not disappoint.
The trilogy follows retired detective Bill Hodges and his friends Jerome, a college student who used to mow Bill's lawn and happens to be one of his closest friends, and Holly, a middle-aged woman with the mind of a child, a computer expert.
This third installment builds off of the first book, "Mr. Mercedes." In the first book, Brady — nicknamed Mr. Mercedes because of the car he used — drove into a crowd of people, killing and injuring dozens of people. About a decade later, after Bill has retired, Brady has not been caught and sends Bill a letter taunting him. Bill, without his detective's badge embarks on a mission to catch the infamous killer.
King tells the story in a unique way, using both Bill and Brady as narrators of different chapters; though, for much of the book, Bill does not know his identity.
At the end of the first book, Bill, Holly and Jerome foil Brady's plan to blow up a concert. Holly stops Brady by hitting him in the head, landing him in a coma.
"End of Watch" picks up where the first book leaves off; though he is mentioned briefly in the second book, it mostly follows a different story arc.
I did not find the second book as engaging as the first, so I did not have high expectations for the third one; however, I was pleasantly surprised.
While the first book was mostly a classic detective novel with the addition of King's skillfully molded suspense, the third one adds in elements of the paranormal that King is also known for.
After coming out of a coma, Brady discovers that after his head injury, he has the ability to move items with his mind and even hypnotize and control people from his hospital bed. Using King's style of alternating between the points of view of Brady and Bill, King builds up suspense by letting the reader into details of Brady's plan that Bill does not know, keeping the reader on edge.
Though from the first two novels in the series, the reader learns to some extent to predict twists in the story, the added element of the paranormal leads the story to new heights.
While Bill and his friends fight to defeat an evil, mystical power, they also struggle with more mundane challenges. Early on, it is clear that Bill is seriously ill, and he must balance his own health with putting an end to the hurt that follows Brady.
King expertly combines supernatural elements with the realistic ones from the first novel to create a believable modern horror story.
Though I have found some of King's books to be slightly long-winded in the way he often uses several hundred pages to set the scene before slowly building up to the climax, I found myself engaged the whole way through.
I enjoyed King's finale to the Bill Hodges trilogy and blew through it within a couple days. Overall, I give it a 4.5/5 stars.