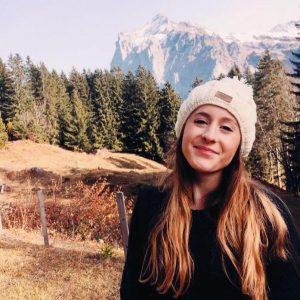 Name: Melissa Libutti
Position: News Editor
Major/Minor: English/Journalism
Story continues below advertisement
How did you get started at the Old Gold & Black?
It was actually very spur of the moment for me. I had never even thought about pursuing journalism or being involved on a newspaper. Coming back from abroad my spring semester of my junior year, I wanted to try something different that was still in my wheel house of skills. So, as an English major, I decided to take Introduction to Journalism with professor Justin Catanoso. It ended up being one of the best decisions I had made in college thus far. Caitlin Herlihy and McKenzie Maddox came to one of our first classes to pitch writing for the OGB and within the day I emailed asking to get more involved on the paper. I joined as a production assistant, by the end of the semester I became assistant sports editor, and then went on to become news editor this semester.
What are your plans as a post-grad?
My plan immediately following graduating from Wake Forest is to go to law school. I hope to study international human rights law and have the opportunity during my three years and hopefully after to join a law firm that works with immigration, refugees and human trafficking issues on a global scale. However, eventually after having some law experience I do hope to pursue a career in journalism. I love writing, and I love storytelling.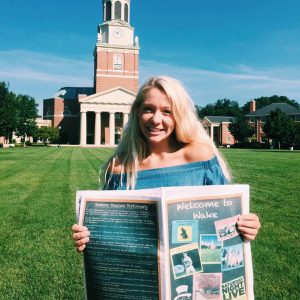 Name: Caitlin Herlihy
Position: Editor-in-chief
Major/Minor: Communications/Journalism & Film Studies
What will you miss most about the Old Gold & Black?
The Old Gold & Black office is my home, and the editorial staff is my family. I'll miss the infectious energy on production nights and the thrill of breaking news. There's nothing like seeing your article printed on the front page. The OGB is such a great organization because our staff comes from all corners of campus, and we're all working together to meet a common goal. We've all chosen to join the staff because we care about the Wake Forest community and value honest reporting. I'll really miss the staff's unity and the group camaraderie the most. The staff makes the late nights and extra workload worth it. They're the best part of my week and the best part of my college experience.
What are your plans as a post grad?
I hope to attend law school next fall. While I'd love to stay close to home in North Carolina, I'm excited for the forthcoming adventure, no matter where I end up. Right now I'm most interested in family law, but I'm open minded and eager to learn about the different fields of practice. I hope life leads me back to a news room at some point or another, but I know my passion for writing will spill into whichever career I pursue.
Name: Grace Young
Position: Life Editor
Major/Minor: History/English & Journalism
What is your favorite memory from your time at Wake Forest?
It's probably either this year's Lovefeast or, and this is going to sound absolutely nerdy — declaring my major. Of course, Lovefeast is always an amazing experience, especially when you're in the choir, but I feel like our campus and our community really needed it this year.  I just felt this overwhelming sense of wonder and excitement this year when I looked out from the choir loft and saw two thousand people all gathered together.  On the other hand, declaring my major stands out in my head because to me, it was a sign that I was growing up and deciding my path in the world.  That, however, begs the question: "What are you going to do with your life?" so that always makes me think long and hard about my future.
What are your plans as a post-grad?
I'm currently in the process of applying to graduate school programs for history at the Universities of Edinburgh, Aberdeen, Glasgow and St. Andrews.  If I go to Glasgow, St. Andrews or Aberdeen, I'll be specializing in Scottish History, while Edinburgh offers a more general history track, so we'll see.  Otherwise, I'm looking at jobs with the U.S. Government, various museums or as a journalist.