New season of Grey's is frustrating to watch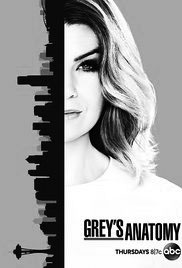 Someone needs to teach Shonda Rhimes how to read the expiration dates on plot lines.
You can't just stir up drama, put it in a Tupperware in the back of a fridge and expect viewers to still want it  20 episodes later.
When the new season of Grey's Anatomy started premiering in September, I was excited. The season 12 finale left quite a few hooks in the water and I was anxious to see them finally get tied up. If for no other reason, I kept watching because I didn't want to lose the 269-episode streak that I built watching seasons one through 12.
Therefore, I've been a reluctant witness to this car crash of a season, both to the literal car crash victims in the triage unit, and to the characters whose relationships — both romantic and otherwise — are crashing and burning. It's scary the way nobody stays together anymore.
The beginning of the season relies entirely on old plot lines, drawing out Karev's legal trial for beating up DeLuca and rehashing the relationship problems with Omelia, Japril and Griggs.
When it looked like Karev was getting sent to prison, I was convinced that he was going to follow 10 of my other favorite characters and leave the show. Then, when DeLuca dropped the charges, I thought Karev was finally going to ride off into the sunset with Jo. However, it looks like Jo is going to hook up with DeLuca instead, and it's extremely upsetting.
The season picks up when Bailey and Catherine Avery decide it's time to replace Webber as head of the residency program, since they need to retain more students. They hire Eliza Minnick, a young hot shot with a risky "learn on the job" approach to teaching surgery. In my opinion, they can't retain residents because Rhimes writes them all off the show — it has nothing to do with the program.
Robbins, a loyal friend of Webber's, begins to date Minnick and is caught in the middle as the staff divides. The residents worship Minnick while the attendings resent her. The drama gets ugly and stays ugly throughout the season. After watching episode 15, "Civil War," I felt like I'd just spent an hour watching an early episode of The Suite Life of Zach and Cody, if you multiplied the petty sibling fights by 100 and took away the comedy.
Webber, who used to be the show's voice of reason, has been re-painted as an immature, whiney employee staying long past his welcome. He spends more time staging coups than actually doing his job. Stubborn is not a good look for him.
The introduction of Jackson Avery's long-lost dad was a breath of fresh air last episode, presenting a plot line outside of office politics. April gives Jackson the confidence to confront his daddy issues, leading to Japril being reignited, despite April having spent the majority of the season becoming bffs with Jackson's mom. She outgrew her goody-two-shoes four seasons ago, so I hope she stops brown nosing soon.
All in all, none of the characters are acting like themselves, no one gets along, everyone is in on-again-off-again relationships and the show isn't what it used to be.