Norwegian company reuses coffee grounds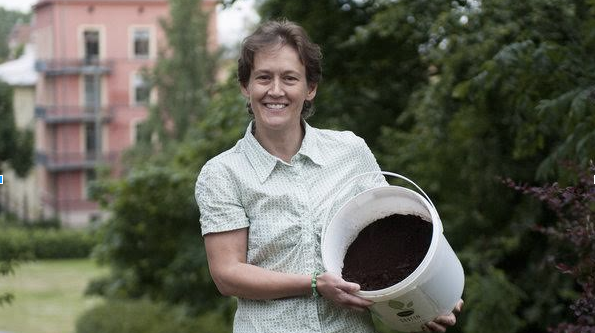 In the city of Oslo, Norway lives a creative businesswoman named Siri Mittet.
Formerly an elite Norwegian tennis player, Mittet decided her next venture would involve addressing food waste, a prominent void in food production. She identified an inefficiency in the coffee market and offered a solution, capitalizing on the environmentally-conscious consumer trends of recent years in the region.
Nine out of every 10 Norwegians drink coffee, leading to consumption of over four billion cups a year. Used coffee grounds, the byproduct of consumption, are typically thrown away by cafes and businesses, leaving an opportunity for repurposing the nutrient dense grounds.
Mittet identified this and offered a solution, establishing Gruten AS in 2014. Her vision yielded a company that repurposes used coffee grounds and creates cosmetic products. The business venture has been well-received by the Oslo community, with over 35 stores now selling the company's products. Mittet can be seen regularly riding around Oslo with her electrical Gruten bike, carrying the used coffee grounds from restaurants and businesses.
"Every day, I come into new aspects of taking advantage of this resource," the Norwegian said.
When coffee drinkers just consume the beverage, and throw away the rest, consumers are missing most of the value of what they purchase," Mittet said. "Almost all the nutrients and all the good stuff in coffee are in the grounds."
Her company offers two main cosmetic products through repurposing coffee grounds: bath soap and body scrub — both of which come in lavender and peppermint scents.
The products serve to assist with exfoliation and enhance skin health, as "coffee grounds has [sic] some fats that will make your skin very soft," Mittet said.
The benefits of coffee grounds are not limited to cosmetics, however, and Mittet understands the importance of educating the greater population in Oslo about the vast benefits of repurposing the product.
Mittet's educational portion of her pursuit includes classes on soap making, and composting courses to teach proper technique for using the grounds to add nutritional value and security to plants in gardens.
The Oslo native said, "quite a few people write to me, saying that they appreciate that I have a focus on education and not just production and products. People want to learn things, [and] people want to get engaged themselves."
Coffee grounds carry significant value for boosting soil nutrients due to their dense nitrogen composition.
"The garden loves the coffee grounds," she said. "By doing that, you return the nutrients and value to the soil."
In addition to nutrition, coffee's scent acts as a deterrent for rodents who might eat the garden plants otherwise. According to Mittet, only humans and worms love coffee and coffee grounds, which is due to the distinct smell and acidity. Mittet's garden stands as proof of this practice.
"I've been doing that (using coffee grounds) a lot on my lettuce and I've had a good effect."
Investing time at vocational schools in the surrounding Oslo area, Mittet seeks to promote and educate the benefits of repurposing waste that can be allow both profit and increased value to communities.
The company's thoughtful business approach has earned Mittet a network of support, including on Facebook. According to the Norweigan, she said environmentally-intelligent businesses like Gruten are more likely to earn consumer support. This is due to the people being more likely to have a positive reaction to their product.
Mittet contrasts her business to companies like Statoil, the Norwegian, state-owned oilcompany, by allowing her thoughtful business approach to assist and supplement the people, products and services in her community.