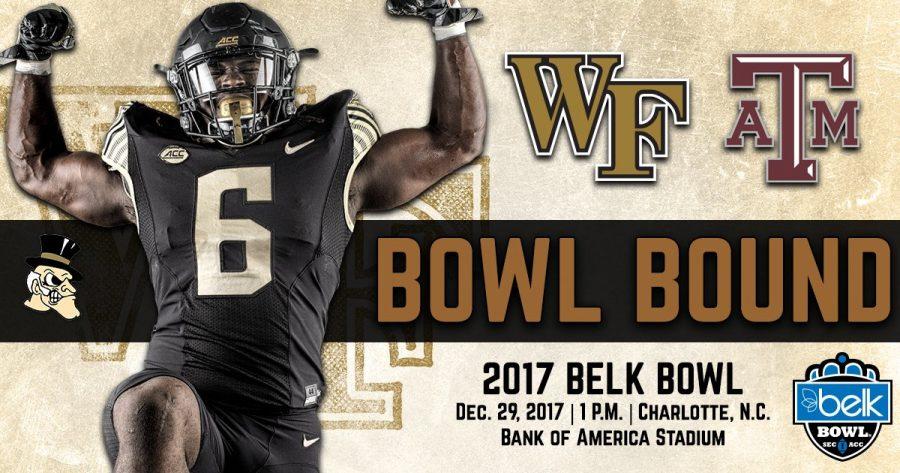 On Sunday, Dec. 3 head coach Dave Clawson and his Demon Deacons learned they would play Texas A&M in the 2017 Belk Bowl at  Charlotte's Bank of America Stadium.
Sunday's selection marked just the second time in program history that the Deacs will play in consecutive bowls.
The game will kickoff on Friday, Dec. 29 at 1 p.m.
"It has been 10 years since we played a bowl game in Charlotte and we are excited to return to the Belk Bowl," said Athletic Director Ron Wellman.
"The opportunity to play in a Tier 1 bowl game so close to home is exciting to our team and our fans. We brought 30,000 fans to Charlotte in 2007 and we expect that number to increase because of our large number of alumni in the area. Our fans are thrilled with all that this team has accomplished this year and the future of Wake Forest football."
Wellman's ability to secure the fan base's top priority bowl destination is a testament to the importance of having a tenured and respected Athletics Director.
Last season the Deacs played in the Military Bowl, held in Annapolis, MD., and turned out a respectable crowd from the Wake Forest alumni base in Washington, D.C.
In this game the Deacs won 34-26 over  No. 23 Temple, defeating an opponent that lost its head coach just weeks before the game.
This year, the Deacs will enter its bowl game facing an opponent dealing with a similar situation.
Texas A&M (7-5) finished fourth in the SEC West but fired head coach Kevin Sumlin following the end of the regular season.
The Aggies have since hired Florida State's Jimbo Fisher but will enter the Belk Bowl with assistant coach Jeff Banks serving as the interim.
The Demon Deacons and the Aggies have never met before in football, although it will not be the first time Wake Forest has faced an SEC opponent in a bowl, nor will be the first time the Deacs played in Charlotte.
Wake Forest last played an SEC opponent in a bowl in 2011 when the Deacs fell to Mississippi State 23-17 and last played in a Charlotte bowl in 2007 when the Deacs defeated Connecticut 24-10 in the Meineke Car Care Bowl.
The 2017 Belk Bowl will be an opportunity for Wake Forest to show just how far it has come in Clawson's four years, just as it will be the final opportunity for Deacon fans to watch senior John Wolford start at quarterback.
Expect the Deacs to play at the level it did against Lousiville and NC State earlier this season. The offense should click as this will be the last opportunity for the best quarterback-tight end duo in program history to take the field together.
Prediction: Wake Forest will defeat Texas A&M 38-27 behind a strong performance by "Johnny Football" — the Demon Deacon version, of course.