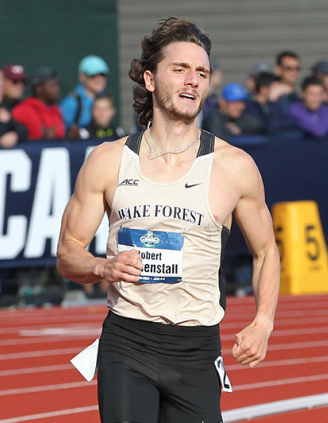 Preparing to head into the outdoor track and field season as the weather begins to warm, Wake Forest's Track and Field team wrapped up the indoor season on a rather noteworthy foot as Rob Happenstall earned the title of 2018 All-American.
Happenstall earned this honor after he finished third in the 800-meter finals at the national NCAA Division I Indoor Track and Field Championships on March 10 in College Station, Texas.
Happenstall is a junior from Ontario, Canada and holds the school record for the indoor 800m with a time of 1:46.71 set at last year's ACC Championships. 1:46.88, his second-best indoor time of his career, is the time that landed Happenstall this win and the best finish of his indoor career thus far. In both of his previous appearances in this event he finished fifth.
This is a slight improvement from his qualifying time of 1:47.74 in Friday's preliminary round. The title marks Happenstall's fifth All-American honor, making it his third in the indoor 800m in addition to his two outdoor 800m. Happenstall's third-place finish was surpassed only by Michael Saruni of University of Texas at El Paso, who finished with a 1:45.15, and Isaiah Harris of Penn State, who finished with a 1:46.08.
Prior to the win in El Paso, Happenstall, along with teammate, senior Sebastian Fishbach earned All-ACC honors at the conclusion of the ACC Indoor Track and Field Championships held in Clemson, SC between February 22 and 24. Happenstall received a bronze in the 800m and was predicted to place fifth in the NCAA Championships, before upsetting the ranks and finishing third. Fishbach finished sixth in the men's mile finals with a time of 4:05.65, earning him second team All-ACC honors.
Alexandria Florent also earned a first team award in the high jump, totaling to three All-ACC honors received by the Deacs. The Deacs left the three-day meet with eleven top-10 finishes. Freshman Daniel Viegra in the 300m and in the men's 4x400m relay team also finished in the top ten, along with shot putter Janese Lynch who threw 14.21m.
The Deacons kick-off the outdoor track and field season by hosting the Wake Forest Outdoor Opener at Ketner Stadium on March 24. This meet will feature teams from Davidson College, Duke, Harvard, High Point and NC State. Field events will begin at 9 a.m. with women and men's hammer throws, while running events will commence at 1 pm with the 4-by-100m relay and then plan to end shortly after 4:30 p.m. with the 4-by-400m relay.
Looking through the end of the month, the team  intends to send runners to the Pepsi Florida Relays hosted by the University of Florida, the Raleigh Relays hosted by NC State and the Stanford Invitational in Palo Alto, CA.