"The Party" Invites us to Listen, But Not Explicitly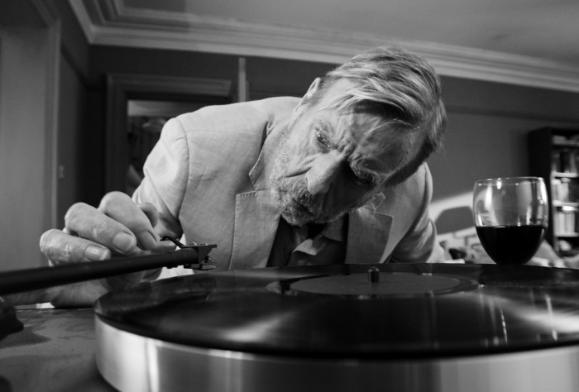 The Party, a slender, 111-minute indie, written and directed by Sally Potter (Ginger and Rosa, Orlando), teases its audience's expectations of a feature-film, and distills them into a Samuel Beckett skit. The film is a party, but a precis of such a party's progressions, whose cast of characters talk (quickly) through life and its paces. It is ultimately a film about the circle of life, and the space in between — what matters, and what doesn't at the end. It is a darkly-comedic story about no particular character, and seems to proffer a vague philosophy of intellectual nihilism.
The film is not a wandering, enveloping diatribe as much as it is a zippy, semi-funny plate-spin, with most of the humor stemming from Tom (Cillian Murphy) the Irish version of a cokehead Wall-Streeter. Janet, England's recently-elected Minister of Health, is hosting a dinner party with her husband Bill. Invited are her various hyper-educated friends, whose insufferable volubility supposes humor, but more often than not makes one cringe at its haughtiness. Attendees include April, a longtime friend of Janet's, with her husband Gottfried, a "life coach" and spiritual healer, Martha, a Women Studies professor (specializing in "domestic labour gender differentiation in American Utopianism"), and her partner Ginny, a renowned chef, and finally Janet's colleague and subordinate, Marianne and her husband Tom, a banker. There ensues a web of deceit, terminal illness and spousal chafe, to detail any of which would take away from the speedy, connect-the-dots whipishness of the entire film.  It is, in effect, a shortened, highbrow version of Perfetto Conoscuiti's  Perfect Strangers, the Italian film in which a friendly dinner party turns into a disastrous affair of affairs (and in which the drama takes place around the kitchen table, not in the drawing-room). But Paolo Genovese's acknowledged commerciality makes his film more scrutable, a highly-enjoyable and emotional game of moral realism; The Party ends as verbal pitter-patter, a million philosophical droplets that ultimately pool into nothing. The film seems to proffer something like intellectual nihilism, that the convolutions and suffocations of the hypertrophied intellect are ultimately life-stifling. The character's professorial quips parody institutional stratification but come off as pointing out the archaism of a profession that leaves one stuck in an ivory tower. Rarified air is so many degrees removed from reality that life becomes hard to see. Their honesty about life and experience is concealed by professorial decorum and jargon, only to be realized when death is imminent.
The best part about The Party is Murphy, although the rest of the cast is worth cheering. His unpretending realism and instability, amplified by his unquenchable addiction to cocaine, shocks the dour intellectualism to occasional comedic life. 
The Party, if there is a thread of a message within the intellectual nihilism, seems to also issue some sort of declaration about death. Not that we try to avoid it (although we do), but that it is a tool to help us think of the things we prioritize in our lives. The battle between ideas and money takes center stage for a portion of the film (again, it is but a pittance of time), when Tom, a rich banker, chastises Bill for his professorial declaration that ideas are better than money, that the only money he uses is "real" and life-sustaining. Tom shouts, "No money is clean. It all comes through the system and into your pockets!" I think the point is that to judge either money-makers or ideas as sole solutions to anything becomes a game of self-delusion. Ideas are great, but you need some money; money is great, too, but you need to have ideas. It's all a bit too hard to parse because everything in the movie exists as a fleeting aphorism. If the point is to think about things, the film does not inspire you to do as much. It is so ephemeral that the impressions fade like the pain of a ripped Band-Aid, and it only induces frustrated freneticism in trying to put something coherent together.
When I went in to the theater, I thought I was in for a meandering disquisition on life, ala Richard Linklater's Before Trilogy, or Andre Gregory and Wallace Shawn's My Dinner with Andre, but instead I was whipped through a 111-minute skit that left me breathless until the last second (probably because I wasn't expecting that second to come so soon). It was the drag-raced intellectualism of The Party that left me not pondering pleasantly, but as if I'd sweatily, greedily, dipped my toes in 100 deep pools, never to dive in. The film is too short to say anything meaningful, but also doesn't use its time wisely — and that is its downfall. It is essentially an exercise in un-pinnable chatter. It would have done better if it had tried to follow Linklater's formula in the Before trilogy; instead, it shortens its lifespan through its own schizophrenia. 
I wish to briefly point out the cast, if only to draw attention to the great potentiality of film. Kristen Scott Thomas, most recently the wife of Churchill in Darkest Hour, plays Janet. Timothy Spall (a bit of a jarring sight, especially since I hadn't seen him since was Peter Pettigrew, as I a small, frightened boy), plays Bill. Patricia Clarkson (Easy A, The Green Mile) plays April, and Emily Mortimer (The Newsroom, Shutter Island) plays Ginny. The always brilliant Cillian Murphy (Peaky Blinders, Inception, Dunkirk) plays Tom. The film is shot in black and white, too, which issues a tone of retrograde seriousness and fatuousness, both of which are only half-realized. The Party is a film of latent potential, but as Jinny says to her partner Martha, "I don't think. It might ruin everything! It usually does." In the case of The Party, although a charming, boutique film probably still worth seeing, somebody should've thought a little more.