Renovated Coffee Shop Brings Mixed Feelings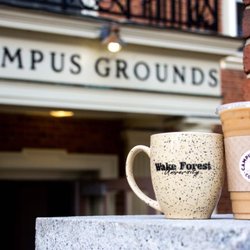 Once marked by its dim lighting, mauve walls and old leather couches, the student-run coffee shop Campus Grounds has received a renovation through the work being done on Taylor Residence Hall. Although some much-needed changes have been made, I hesitate to say that the beloved location has been "upgraded," as many of the elements that made it feel warm and homey have now been stripped away.
Rather than simply revamping the location, Campus Grounds has now been combined with the lounge for Taylor. When you walk into the room, the first thing you see is the resident advisor's office and lounge-style furniture, including seatbelt chairs and simple tables. The actual shop is hidden around the corner, where extra seating used to be located. With its exclusive location contained to one portion of the space, there are only two tables and a few chairs that provide the vibes of being at an actual café .
It's extremely disappointing that there is no longer a distinctly unique coffee shop on campus. Sure, there is the overly-jazzy, crowded Starbucks, but you can find that in every corner of the country. By combining the location with Taylor's lounge, Campus Grounds has become homogenized with the rest of campus; bright lights and plain walls have taken almost all of the character out of the space.
With that being said, the new countertop space has definitely upped the game in terms of serving foods and beverages. There is now a case for the baked goods from Camino Bakery as well as a refrigerated section for other goods. Similarly, extra items like milk, simple syrup and straws are now stored conveniently next to the garbage at the end of the counter. The menu sits above the cash register and it seems like everything now has a place.
Despite all of the changes, two key things have remained the same: the coffee and the people. Campus Grounds is still serving up its caffeine-fueled beverages, and it is the only spot at Wake Forest to get drinks like "Hatch's Hazelnut" and a "Daffodil Latte." Similarly, it's always nice to recognize a fellow student working behind the counter. They will always give you extra whipped cream and can easily provide drink recommendations when you want to switch it up.
Do I miss the atmosphere of the old Campus Grounds? Sure. Will I keep going there instead of Starbucks? Of course.