Campus Garden Embraces Sustainable Agriculture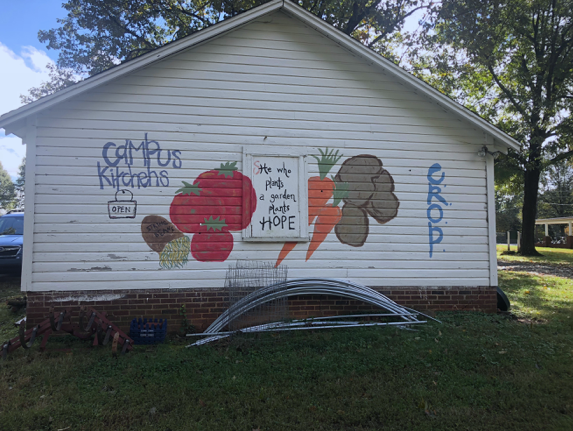 Growing your own food has become a popular initiative on campus to help keep students, staff and faculty members conscious about their food consumption.
Started in 2008, the Campus Garden has become a way for students to get involved in growing their own food in a place that allows them to relax and find connections within themselves.
"It's an opportunity for folks to socialize as well as get their hands dirty growing food," said Nathan Peifer, manager of the Campus Garden.
Entering the garden, volunteers are greeted by rows of plant beds, chickens and an abundance of soil for planting. "Even though it's on Polo Rd. and right next to the sophomore parking lot, it definitely feels like its own space," said senior Cameron Waters, a Campus Garden intern.
According to the One Green Planet Organization, it is estimated that food travels an average distance of 1,500 miles before being consumed.
This large-scale, long-distance transportation relies heavily on energy burned from fossil fuels. As a result, we currently put nearly 10 kilo-calories of fossil fuel energy into our food system for every one kilo-calorie of energy we get as food. A kilo-calorie is a unit of energy equal to 1000 calories. As an effort to push for sustainability, growing food locally has gained popularity.
With volunteer hours every Wednesday and Sunday, the Campus Garden allows students to become one with nature.
"I like working there because it's a cool way to take a break from doing work on Sundays, to get involved in the Wake community and to hang out outside," said Rachel Norotsky, a sophomore volunteer.
The garden makes efforts to create a sustainable environment instead of relying on carbon and fossil fuels.
"We limit the amount of machinery that we use and fossil fuels that we burn in the Campus Garden," Peifer said. "Almost all of the work that's done in the garden is with hand tools."
One of the goals of the garden is to not only be carbon neutral but to become carbon negative. Through composting, the system of the garden takes carbon out of the atmosphere and puts it back into the ground.
"[There's] Campus Kitchen, we get all of their food waste," Waters said, as she explained the closed loop system of the garden. "We compost that and it goes back into the garden. Then, we grow food that volunteers and Campus Kitchen both take."
One of the challenges with the garden is initially introducing people to it.
"Agriculture isn't something that a lot of students are inherently interested in," Peifer said. "The challenge is getting folks to come out and experience it for themselves."
In regard to the future of the garden, "we want to grow more produce," Peifer said. "We would like to continue our work with professors and inviting classes out to the garden."
Some students, while they do not necessarily make weekly appearances at the garden, do take it upon themselves to make sustainable choices around campus.
"Individually, I recycle for my suite, and I do the best that I can to recycle when I see something that needs to be recycled or thrown away," said sophomore Alexa Reilly. "I think it's important to get involved and that's something I'm really trying to include more in my college experience."
The Office of Sustainability offers many different programs around zero waste, and students can pledge to eliminate single use plastic from their lives as a start to taking action towards sustainable living.
"There's a lot to be done," Peifer said.
The calming environment of the garden tends to draw volunteers back each week. "It is so relaxing and you actually are doing something with your body, some kind of physical work, which actually makes you feel really good," Waters said. "People come out and they can just unplug."
Norotsky said, "It's cool to promote Wake's sustainability initiatives and to meet students who have the same interests as you."
The garden offers the campus community a way to contribute to the most natural thing humans do, producing their own food. Going to the garden allows people to develop empathy for the farmers who produce our food, people that we will never meet.
"Our food comes from the soil and not from the grocery store," Peifer said.