"Bottle It In" Is An Enjoyable Daze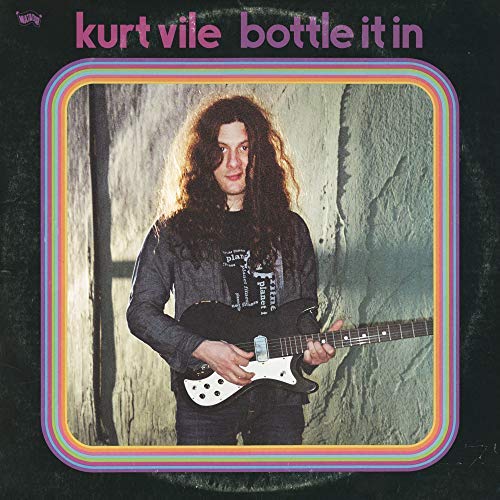 Kurt Vile released his eighth studio album, Bottle It In, on Oct. 12, and the mellifluous Vile continued his exploration of spacey extended songs that progressively build into his trademark "daze."
The album begins with a catchy chord progression on "Loading Zones" that expands with effects-driven fingerpicking accompaniment and leads the listeners eventually into a void-like drift, a zoned-out contemplative state. The supporting music video showcases Vile's ability to "slip and squirm" from meter maids, and the video features some parking enforcers whose decadence could be rivaled only by WFU's very own. This leads into "Hysteria," which kicks off with a relaxed percussion bit, into another chord progression of the sort Vile has become renowned for, but the song doesn't travel much further beyond the initial sentiments.
While most of Vile's tracks (unfortunately) utilize a drum machine, it is usually easy-going and in the background of the song, but "Yeah Bones" kicks off with a hackneyed 80s synth-pop styled drum loop in the forefront throughout, which detracts from the intriguing guitar swells and rhythmic transitions. "Bassackwards" begins with a familiar sound to anyone who has listened to the Beatles' "I'm Only Sleeping" or Jimi Hendrix's "Castles Made of Sand" recently — a guitar part recorded and played backwards; a reverse tape effect. Many have noted "Bassackwards" as the pinnacle of Vile's performance on Bottle It In, and rightfully so. Vile noted that "Bassackwards" is a song that is "coming out of a place of some kind of anxiety," and that's the way the song feels. The subtle harp melody adds a great deal to the finesse of the track, along with a simple-but-guiding bass line. The next song, "One Trick Pony," is easily the most fun song on the album, the background singing during the chorus adds another enjoyable dimension to the song, and this track features the most traditional guitar solo, in the classic-rock sense.
Vile chose to cover "Rollin With the Flow," written by T.G. Sheppard but most famously performed by Charlie Rich on Bottle It In. Vile puts his trademark daze-y touch to the song without forsaking the track's origins. "Check Baby" kicks off with a questionable synth part, leading to an enticing guitar motif, but along with "Yeah Bones," the vapid drum machine stymies the song's potential. This leads into the album's eponymous track, a mellow land of piano and bass, and this is continued in the relaxed fingerpickings of "Mutinies." The foot-tappin' banjo picking of "Come Again" is reminiscent of "I'm an Outlaw," and vocal harmonies compliment Vile's own.
"Cold Was the Wind," my personal favorite, sounds like the soundtrack to a modern desperado disappearing into the night, and is peppered with surreal lyrics ("Christmas in Siberia with a little bitty case of the Delirium Tremens"). "Skinny Mini" has many spoken interludes on a femme fatale character, who will "chew you out if you deserve it, man"— and admirable quality in an ever-sensitive society. This track also utilizes a delay effect on his vocals and Vile showcases how moderate, subtle vocal effects can be beneficial to a song, especially in a time of quack autotune "artists". Finally, Vile ends the album with a callback — something appreciated in comedy and music alike (as well all know, "Rust Never Sleeps.")
While Vile doesn't stray far from his established repertoire on Bottle It In, there is something to be said for remaining original without becoming stagnant. The only warranted complaint for Bottle It In is one Vile owns — he has "a soft spot for repetition," but certainly isn't a "one trick pony."