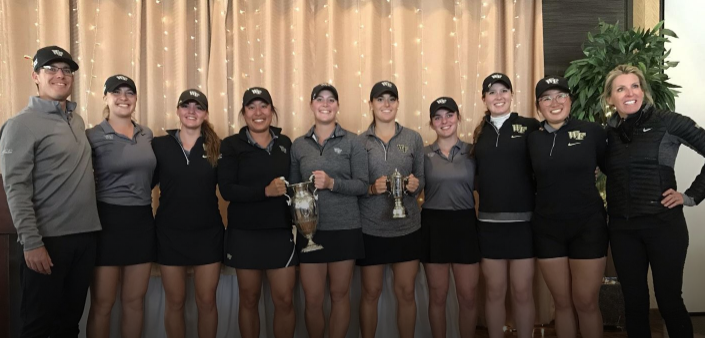 After a dominant performance at the  Tar Heel Classic at Casa de Campo in the Dominican Republic, the women's golf team came back to demolish the field again at the Bryan National Collegiate to grab the victory and cement themselves in the top five nationally.
In the Dominican Republic, the then-No. 12 ranked Demon Deacons were one of just two teams to finish the tournament under par. The team's 14-under final round was the best single round in program history. The 23-under par three-round total also broke the previous 54-hole scoring record of 13-under.
The team then took the Bryan National Collegiate by storm, with senior Jennifer Kupcho and sophomore Emilia Migliaccio sharing the top medal at 12-under-par. The Demon Deacons shot 34-under-par to win the event by 32 shots at the Bryan Park Champions Course in Browns Summit, N.C.
A host of records were shattered with the dominant victory. The 34-under total set a new ACC 54-hole scoring record, while also coming in at the seventh-lowest 54-hole team score in NCAA women's golf history. The victory was the second-straight event where the Demon Deacons broke the previous school record. It also beat the Bryan National Collegiate scoring record of 13-under. The Deacons' 14-under-par final round tied the school record for 18-hole scoring set earlier this season.
Individually, Kupcho and Migliaccio shared the individual title at 12-under-par, each shooting a final round 68. This was Kupcho's second-consecutive victory and her ninth career title. It was Migliaccio's second win of the season and her third career title. Kupcho extended her school-record streak to six-consecutive rounds in the 60s.
She also tied the NCAA career record with her 34th career round in the 60s on Sunday. Migliaccio's streak of four straight rounds in the 60s is tied for the second-longest in program history, and her total of 15 career rounds in the 60s is second in program history, behind Kupcho.
The entire team was at the top of the leaderboard, with all five golfers in the top 10 and four in the top four. Freshman Letizia Bagnolishot finished in third place at 5-under. Junior Siyun Liu finished in a tie for fourth at 4-under-par. Freshman Vanessa Knecht finished in a tie for eighth to round out the Demon Deacons. It was the first time in program history that all five players in the lineup shot under par in the same round and the first time in program history that all five players in the lineup finished a tournament under par.
Now, Kupcho and Migliaccio will participate in the inaugural Augusta National Women's Amateur, featuring the top 72 amateurs in the world. As a team, the Demon Deacons will return to action at the ACC Championship at Sedgefield Country Club in Greensboro in two weeks.