Podcast Makes Listeners Laugh, Think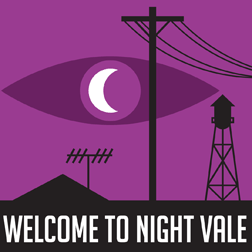 The hit serial fiction podcast Welcome to Night Vale was first released in June 2012. A year into its production, the podcast blew up in popularity, changing the medium forever.
The podcast follows the endevours of a small desert community called Night Vale. The town is extremely weird; time doesn't work, and they have some interesting residents like a flying glow cloud that rains dead animals instead of water. (ALL HAIL!)
The idea of this show is amazing. The language the writers Jeffery Craner and Joeseph Fink use is beautiful. The entire narrative is delivered by a radio show host named Cecil Palmer. He may be unreliable at times, but listeners can't help but love and support him.
One quirky segment of each show is the weather section. At the climax of each show, right when whatever protagonist of the episode is taking control, Palmer will take his listeners to the weather.
Instead of listening to the predicted temperature and precipitation, however, listerners are graced with a song. The creators of Welcome to Night Vale wanted to be different, and therefore they added a new song by upcoming artists into every episode.
I recently made a playlist on my Spotify of my all time favorite weather reports and have been listening to them on repeat for a while.
While Welcome to Night Vale has been around for quite some time now, the network, Night Vale Presents, released a new show in 2018 called Good Morning Night Vale. This show analyzes each episode of Welcome to Night Vale, while adding some off-topic conversation in between.
After binge listening to the entirety of Welcome to Night Vale this summer, I knew I had to go back and do a re-listen while listening to Good Morning Night Vale.
Hal Lublin, Symphony Sanders and Meg Bashwiner are three voice actors that work on Welcome to Night Vale, and they now host the Good Morning Night Vale show. For each episode the three hosts discuss their own theories and head cannons about the show.
They tend to get off topic pretty often. Food is mentioned at least 100 times per episode. I don't mind this and actually appreciate the realness that shines through. It shows that the podcast isn't totally scripted and that they're just people too. It's hilarious.
In addition to the off-topic banter and theories about Welcome to Night Vale, the show conducts interviews with other people associated with the show, and they read emails from fans. On the first episode, they interview Cecil Baldwin, who voices Palmer. They also interview some of the artists that have been the weather at their live shows.
In the episodes that don't feature interviews, Lublin, Sanders and Bashwiner read fan theories and head canons. It's always interesting to hear the new perspectives about the show.
Overall, if you're trying to find something to listen to, check out any of the Night Vale Presents podcasts. Welcome to Night Vale is a great starting place. Make sure you listen to it all the way through before tackling Good Morning Night Vale because there are spoilers.
In additon to these shows, the network produces several other interesting podcasts to check out including: I Only Listen to the Mountain Goats, Coversations with People Who Hate Me and Alice Isn't Dead.