Sweet Potatoes chef serves soul food in new cookbook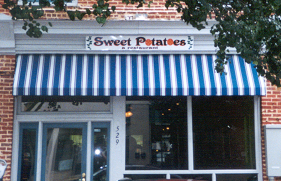 When Stephanie Tyson visited her grandmother on Saturdays, there was always something cooking. Regardless of highs or lows, youth or age, there was always fried chicken sizzling in the cast iron skillets of Ora Porter's kitchen. When her grandmother was no longer around to serve that chicken, lightly seasoned with only salt and pepper, Tyson stood in her place and made it instead. Good food not only has the power to nourish the body and mind — it nourishes family.
Inspired by the memory of her grandmother's life of cooking, Tyson released her newest cookbook,Soul Food Odyssey, this past July. Tyson and her partner, Vivián Joyner, balance substance and style in the  cooking at their Winston-Salem restaurant, Sweet Potatoes.
"Aspire to be a cook, not a chef," Tyson said. "To be able to cook is something that chefs should aspire to do and be. So that inspired me to do that book. We need to be able to cook not just for show, but for eating. It's one thing to have beautiful food, but if it doesn't taste good, it doesn't mean anything. Life isn't The Food Network. I wanted to make the food as important as it is, so people would know that it's important."
Also influenced by her mother, Donzella Tyson, to whom the book is dedicated, the cookbook follows Tyson's journey to rediscover dishes that "had to make a lot from a little." Tyson does not define soul food as a separate category, but rather said, "it's just food of the people, to me." It encompasses the collard greens, pinto beans and, of course, fried chicken, that were frequent plates at African-American cafes across the South, like Walt's Grill in Chapel Hill, N.C.
"It's degrees of Southern," Tyson said. "There's Southern when you're flush, when you're wealthy, and then there's Southern when you're trying to make do … soul food started out as making something from nothing. And at some point in the South we were all making something out of nothing and when we got better, we ate differently. We ate a little better when we had a little more. African-Americans didn't get to that point as fast as their white counterpoints."
To create the book, Tyson collaborated with other cooks to find new recipes, traveling and synthesizing what she learned into original dishes that span from "Spicy Collard Greens" to "Okra Fritters" to "Seafood Sealoaf" and "Cornmeal Cake." Some of these, like the "Collard Green Pesto," have also been incorporated into Sweet Potatoes.
"The process was just about research and getting to know what soul food is," Tyson said. "Learning how to cook, finding resources and talking to people and interpreting what they say."
Much of the food that Tyson learned about for her new book, which took about four months to complete, was observed in practice, rather than gathered from written and measured sources.
"A lot of people don't cook by a recipe, they cook by instinct, so a lot of it was putting things together and me cooking," Tyson explained.
Condensing this information into a cookbook with both recipes and commentary involved translating observed culinary practices into an articulate guide for readers. For Tyson's traditionally culinary background, writing presented an additional difficulty, as well as a reward.
"It makes you think about what you're doing and why you're doing it. You have to verbalize the process, you have to put that down on paper, which you don't normally do, so that's a challenge," Tyson said.
Feedback from Joyner and other colleagues was essential to perfecting the recipes for publication. Both Joyner and Fred Harden, a long-time employee of Sweet
Potatoes currently serving as both the bartender and a floor manager, taste tested Tyson's food. Joyner was the photographer for the book.
"I'm not a food photographer, but it was always in the moment," Joyner said. "She cooks in the moment, so it's not very planned. Since it was a journey and since it was something so personal to her, she thought no one better to put vision to her journey than me."
Soul Food Odyssey follows Tyson's first book, Well Shut My Mouth!: The Sweet Potatoes Restaurant Cookbook, released in 2011. While the first book centers on Tyson's and Joyner's experiences, family recipes and the restaurant, the second explores the intersection of soul food and Southern food. To Harden, known as "Mr. Sweet Potatoes," Tyson's and Joyner's availability to Winston-Salem is akin to how they have made their food accessible.
"When people try something from Steph's cookbook and it don't turn out right, you can call her," Harden said. "She's very helpful, she's very good at her work and what she does."
In the end, cooking is collaborative.
"It's always good to talk to people about food," Tyson said. "People who like to cook, like to share. You don't just cook for yourself — you cook for others."