Sherlock returns with special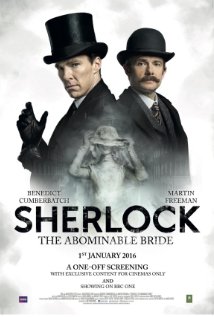 On Jan. 1, Masterpiece Mystery's hit show Sherlock returned to American televisions with their New Year's special titled "The Abominable Bride."
This time, though, there was a twist. The show's fame comes in part from its gimmick: showrunners Mark Gatiss and Steven Moffat uproot the famous literary detective Sherlock Holmes (Benedict Cumberbatch) from the smoggy London of 1895 and placing him in present-day London. However, this year's New Year's special reversed that and did a throwback to the Sherlock Holmes of 1895. The episode was a success, and not just because we got to see John Watson (Martin Freeman) with a handlebar mustache and Sherlock in his traditional outfit.
The shift in time period, and the general tone of the episode, gave viewers a much more chilling experience. The episode centers around the truly frightening abominable bride, who seemingly haunts husbands from beyond the grave. The story begins with the case of Emelia Ricoletti, a woman who, in quick succession, shoots pistols from her balcony in her bridal costume, shoots herself, then rises from the dead to kill her husband. The episode follows Sherlock as he tries to solve the case of the bride rising from the dead; the mystery even gives Sherlock a run for his money.
The whole flashback pans out like a nightmare or bad drug trip — we discover that it is the latter about halfway through the episode. The literary Sherlock was notoriously dependent on cocaine and heroine, and the modern-day Sherlock's lack of drug use was conspicuously absent from the show — until this episode. The episode may have gotten a little ambitious with switching between the two time periods, but it also simulated the disorientation of a bad drug trip and gave insight into the flaws of Sherlock's brilliant mind. His issues range from his insecurity in his own genius, triggered by Moriarty's reappearance, which we learned about in the 2014 finale.
However, while the 1895 Sherlock certainly grappled with some of these issues, it also dealt with late 19th-century feminism. Women in the episode criticized the lack of female voice in the 1895 Sherlock stories; their criticisms ranged from tongue-in-cheek comments from the housekeepers and maids, to the presence of a feminist group that used the fear of the Abominable Bride to attempt to gain autonomy. Although it was admirable that Sherlock writers Moffat and Gatiss to attempt to tackle the lack of women in the original Sherlock series, the representation of feminists as murderous was met with some critique. The women never really had a strong political urge to commit their murders —the reasons most of them gave for committing their crimes was as revenge against an abusive husband, rather than as a tool for social rights, like suffrage. Additionally, the idea that women are murderous and crazy in their desire for equality is a trope that feminists have been fighting against since the beginning of the movement.
Overall, however, the "The Abominable Bride" was enjoyable and fun, and well worth watching if you're a Sherlock fan.