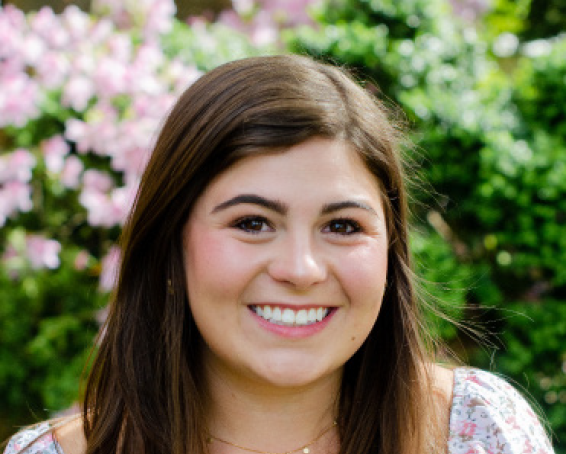 Environment and Sustainability Studies: Sophia Masciarelli
 With the future of the planet uncertain, graduates like Sophia Masciarelli give hope to the fight against climate change. As an environment and sustainability studies major, Masciarelli has fully embraced Wake Forest's interdisciplinary approach to sustainability in both her coursework and extracurricular pursuits. 
Although she initially wanted to pursue a major in politics and international affairs, Masciarelli fell in love with her environmental studies classes. She shifted her studies in politics to a minor and catered her major to sustainability studies. The environment and sustainability studies major was created in Masciarelli's sophomore year at Wake Forest. 
Masciarelli recalled that Dr. Paul Thacker's Culture and Nature course within the Anthropology department was especially integral to her studies. 
"I really loved the human insight element of that class and the way that anthropology as a discipline supplements environmental studies," Masciarelli said. "Understanding the way human society evolves and how our relationship with nature has evolved alongside it really intrigued me. I think it allowed for deeper insight to the situation we've gotten ourselves into today with climate change." 
Thacker was equally as enthusiastic to have Masciarelli in his courses. "At the risk of sounding trite, I can confidently state that our world is better because of Sophia. Sophia is a leader committed to the practice of ethical environmentalism," Thacker said. "Sophia thinks innovatively and explores interdisciplinary connections in everything she experiences. Our campus community will deeply miss her inspirational leadership, personal compassion, and resilient optimism." 
Although she has shifted her focus to environmentalism, Masciarelli is still interested in policy. This summer, she plans to pursue a fellowship with the Piedmont Environmental Council outside of Washington, D.C. 
"In the program, we're going to be working with issues like wind conservation, habitat restoration policy, and sustainable agriculture," Masciarelli said. "I'm really excited to explore more in policy — to me it seems like a place you can leverage tangible change." 
Though she is excited to try all sides of environmental legislation, Masciarelli is particularly passionate about environmental justice. 
There's a lot of intersections and opportunities to make positive changes around environmental justice," Masciarelli said. "There's so much work to be done, and I am so energized by the surge of other people passionate about environmental justice, too. As we know, this isn't just an ecological crisis, it is connected to race and gender as well." 
Dr. Lucas Johnston taught Masciarelli in four of his courses. He spoke to her passion for the interdisciplinary nature of environmental and sustainability studies. 
"Sophia came at just the right time to take advantage of our new major in environment and sustainability studies," Johnston said. "She is an excellent testament to the sort of broad but rigorous academic background the major requires and an exemplar of why we should focus on education for sustainability." 
In addition to her academic study of the environment, Masciarelli has also dedicated much of her senior year toward her communications and events internship in the Office of Sustainability. 
"My experience as an Office of Sustainability is what made my time here at Wake Forest," Masciarelli said. "Working closely with the faculty of that office and developing a robust skillset surrounding communication of sustainability issues has been invaluable." 
After her summer with the Piedmont Environmental Council, she has another fellowship lined up at Emory University in Atlanta. She is especially excited to draw from the breadth of knowledge she has gained at Wake Forest. 
"Sustainability is so interwoven with many other things," Masciarelli said. "There's a place for everybody in the sustainability movement, and I really believe it is the future."