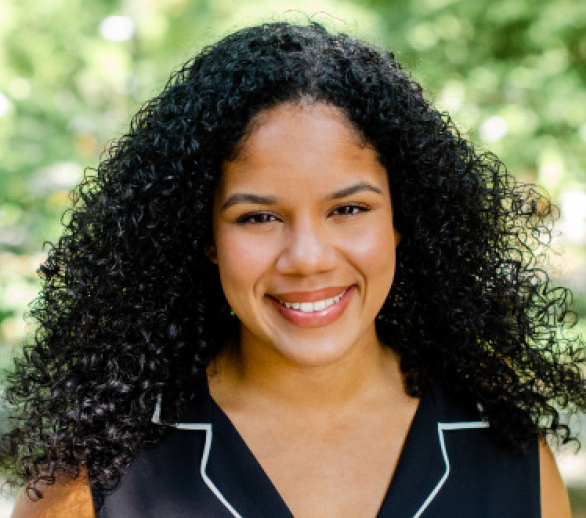 Health and Exercise Science: Shayla Smart
Shayla Smart knew she would be attending Wake Forest in her sophomore year of high school, when she committed to play soccer for the Demon Deacons. As an athlete, she was always drawn to the Health and Exercise Science (HES) field, but she knew that she wanted to pursue a future within medicine. Coming to Wake Forest, she believed that majoring in HES would be the best fit for working through all the prerequisites for physician assistant's (PA) school. 
Smart credits much of her success in the HES field to the professors who have helped her through this journey. She believes that her time at Wake Forest would not have been as excellent if it weren't for the mentors she met through the major. 
"The professors within the department are so helpful and useful," Smart said. "They're always there with open doors. I got to know all my professors on a really personal level. So, I feel like I wouldn't have had such a great academic journey and success if it wasn't for [this major]." 
Specifically, Smart recognizes Dr. Ted Eaves as one of her greatest influences throughout her time at Wake Forest. She took three classes with Eaves and noted his Human Gross Anatomy (HES 352) as the most compelling class she has taken. 
"Shayla is a very intelligent and driven student who has excelled in several of my classes," Eaves said. "Her high level of success both academically and athletically validates how hard-working and dedicated she is to everything that she does and demonstrates how much potential there is for Shayla in her personal and professional future." 
Smart's most memorable experience within the HES department is the cadaver laboratory that was offered through the anatomy class. She highlights the importance of learning about the human body and different muscular and skeletal systems on a deeper level but also doing so with professionalism. 
"Outside of knowledge about the human body, I also learned about compassion," Smart said about the cadaver lab. 
While Smart has certainly had much success within the HES field, she also has had a significant career on the soccer field. Playing as a forward, Smart made large contributions to her team through goal-scoring. In September 2021, she was named one of the "ACC Women's Soccer Offensive Player of the Week" after scoring the first hat trick of her collegiate career and the first hat trick for Wake Forest's women's soccer team since 2016. Beyond Wake Forest, Smart has also represented Jamaica on the senior national team as well as the under-17 and under-20 national teams. 
After graduating from Wake Forest, Smart will return home to Orlando, Florida, and begin applying to PA school this summer. She will also be working as a medical assistant to fulfill her patient career experience hours for PA school. Last year, Smart started a pre-PA club on campus that was chartered this semester. Smart spent a lot of time organizing the club's goals and meetings while also helping out other pre-PA students. 
"I am so excited that she will be going to PA school, because I have no doubt Shayla will be an asset to the field and help so many patients who need her," Eaves said. 
While Smart is grateful for all she has learned and experienced within the HES department throughout her time at Wake Forest, she is ready to get into the professional field for a more hands-on experience. 
"I'm excited to take everything I've learned from the past four years and go work in the field that interests me," Smart said, "rather than just learning everything in the classroom," Smart said.