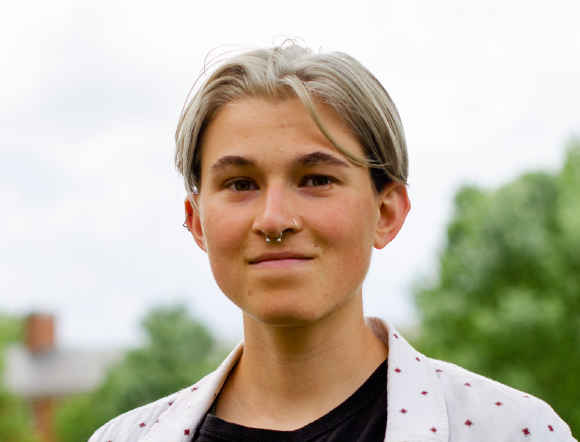 Latin: Zoe Clay
Zoe Clay is someone who does it all. Being Raised in Crozet, VA, Clay was heavily involved in track and cross country in high school, but they also found time to get interested in Latin — despite the high turnover rate of their high school Latin teachers — and took the language all four years. 
Despite their experience with the language, Clay was not anticipating majoring in Latin when they arrived at Wake Forest. They credited their teammate, Anna Campbell, as the person who inspired them to pursue Latin. Clay said that they are "so glad she did, because [their] favorite classes at Wake Forest have all easily been through the Classics Department and have provided a nice balance and contrast to HES lectures."
Clay, who is also majoring in health and exercise science, noted that the two majors actually have some convenient overlap. 
"I had a great time in anatomy with all the Latin roots," said Clay, "Knowing that a lot of the names were in the genitive (a Latin case) really helped me out with spelling one time during a practical." 
They continued: "Learning Latin has also helped me with the other languages I've been studying as well, though the atmosphere of my classes at Wake Forest has definitely taught me to appreciate it on its own and I will continue reading Latin after I graduate."
Clay mentioned T. H. M. Gellar-Goad as one instructor, in particular, who inspired them and helped them along the way. 
"Zoe is a diligent, skilled, and resilient student of Latin and classics," Gellar-Goad said. "They are confident and collaborative all at the same time." 
Gellar-Goad also noted how entertaining Clay is to have in class. 
"They've got a great sense of humor, too, as I've been fortunate to get to experience both in a Latin course on ancient Roman comedy and in our Latin Advanced Grammar & Prose Composition course this semester," Gellar-Goad said.
"Zoe's group consistently came up with the funniest translations, in which they adopted the persona of "Chadullus" to give a 'brotacular' presentation to answer the question 'Why Latin?'"
Clay has managed to survive and even thrive during their time at Wake Forest, though they did make note of how challenging it could be at times. 
"It's hard to identify a specific best or worst day," Clay said. "In general, my worst day was probably one of the days when I'd gotten overwhelmed with other work and hadn't been able to adequately prepare for my Latin class." 
While the small Latin class sizes here at Wake Forest can be unforgiving when one does not have the time or energy to prepare for class because "there is really no way to hide," it can also be extremely rewarding because of how much progress one can make in a short amount of time. 
"There are so many good days," Clay said, "like when the meter in a poem comes together in your brain and you can read a whole passage out loud and hear it at the same time, or when something you've read sparks simultaneous connections to multiple subjects or ideas." 
Clay also found it surprisingly easy to connect to people writing so long ago — the chronological distance was not as divisive as they expected. This can conjure mixed feelings because that recognition can be "sometimes comforting, sometimes illuminating and sometimes it's really just disheartening."
After college, Clay will be taking a gap year while working in Winston-Salem, and they are also planning on applying to PT schools. Right now, however, Clay is most excited about "experiencing Winston-Salem beyond Wake Forest" and exploring all of the hidden gems that the city has to offer.