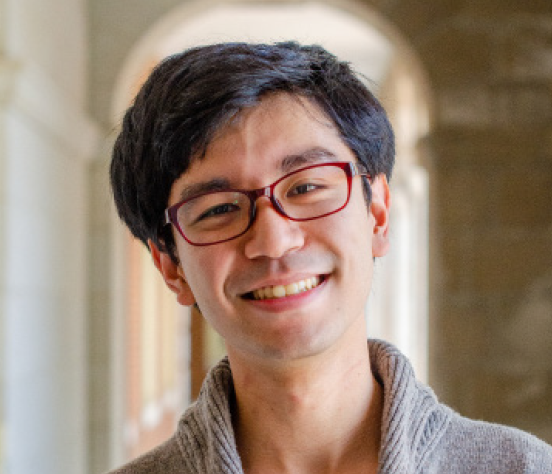 Applied Mathematics: Minato Hiraoka
 When Minato Hiraoka applied to Wake Forest, he knew what he would study. Now he is graduating after only three years with a degree in applied mathematics.
Though Hiraoka always knew he would be majoring in a science, technology, engineering or math (STEM) subject, he describes the decision to major in Applied Mathematics as a "process of elimination." Physics and chemistry were never as fun and biology never as interesting as math. After completing classes in different STEM subjects in high school, Hiraoka was looking forward to pursuing mathematics at Wake Forest.
After beginning early by completing high-level mathematics courses in freshman and sophomore year, Hiraoka was on track for a quick graduation. This fall he will begin graduate school at Northwestern University to pursue his doctorate degree in applied mathematics. 
"Taking lots of math classes early on gave me the opportunity to quickly branch out to higher-level math classes and take pretty much all the applied math classes that this school has to offer within three years," Hiraoka said. 
Within the applied mathematics department, the intimate community allowed him to form close connections with his fellow classmates and professors. Particularly, Professor Kaitlin Hill, who also attended Northwestern University, made a significant impact on the course of his educational career at Wake Forest University. 
"Minato thinks deeply about the connections between mathematics and applications, engaging in the sense-making process to a depth I have rarely seen," Hill said. 
She continued: "It has been an honor to work with Minato in both classes and his research. I am looking forward to hearing more about his path as he moves forward in his career in applied mathematics."
The ability to form connections with fellow classmates and professors also proved to be a critical part of Hiraoka's experience at Wake Forest, despite the amount of studying and schoolwork required to complete a mathematics degree, he branched out after the first semester of his freshman year and found a more social aspect of the school. One of his favorite study spots, the 'atrium' of the Z. Smith Reynolds library, was where he met several of his close friends. 
Hiraoka also made use of his summers. Between semesters, he participated in research projects at the Florida International University, where he was able to work closely with professors on their ongoing work.
"Working with professors from that university really helped me realize that I want to do research after college," Hiraoka said. 
For his senior thesis, Hiraoka chose to focus on a topic that has become increasingly compelling to the public in recent years: epidemiology. Hiraoka's work involves formulating models that predict the possible incomes of government responses to a pandemic on both the spread of the disease and that nation's economy. For example, a complete "lockdown" may be effective in slowing the rates of infection but can have irreversibly devastating effects on some nations' economies. 
Though the research appears particularly relevant in the midst of the COVID-19 pandemic, the goal of the models is for them to be applicable to the global spread of any disease.
As far as graduate school research and possible concentrations, Hiraoka is keeping his potential options open. 
"My senior thesis was a fun project, but I'm looking forward to finding new topics to explore during the next few years," Hiraoka said.