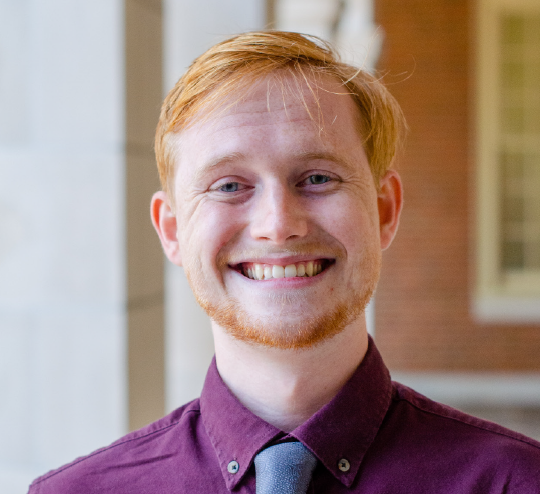 Chinese Language and Culture: Brae Troutman
Brae Troutman always knew that he wanted to pursue a Chinese language when coming to Wake Forest, but did not expect to also develop a deep passion for another discipline — computer science. 
"Coming to Wake [Forest] initially, I only wanted to major in Chinese," Troutman said. "I came in and I thought that I would really like to teach English overseas. I came in and took an intro to computer science course for quantitative reasoning and I realized that I was really passionate about and interested in computer science for the same reason that I was interested in Chinese — this aspect of communication."
Because he was able to draw upon the different characteristics of his Chinese studies, Troutman noted the importance of connecting to people and communication and how learning another language has helped him to grow as a person. 
Troutman notes that having "a cultural understanding and the ability to engage with another culture and speak another language allowed the ability to be more empathetic to connect with people in ways that I would not be able to if I was monolingual." 
When reflecting on his time at Wake Forest, Troutman recalls fondly two particular experiences — a course and a teaching opportunity. 
"One of the best experiences I've had with my major was in Business Chinese – I really got an opportunity to have intersectionality between my two majors where I gave a ten-minute presentation in Chinese on the future of cloud computing in China," Troutman said. 
Troutman continues: "In a fourth year Chinese course, I got to engage with students at Durham academy — who were taking Chinese [classes] — and we got to go beyond being learners of Chinese to being able to help and tutor students who were learning the language at a level below what we had just achieved." 
Outside of his many academic pursuits, Troutman enjoys occupying his time with the different art spaces on campus — whether that be music or visual art. 
"I'm also involved with an acapella group on campus. I'm in Innuendo, a co-ed acapella group," Troutman said. "I've been involved with various art space activities — which is always something that I really enjoy engaging with." 
These extracurricular activities hold together Troutman's passion and interest in his studies. The idea of communication is prevalent in almost every aspect of Troutman's life in various forms. 
"The things that I really like to engage with on campus are these aspects of communication," Troutman said. "Music and arts are a way of connecting and communicating emotionally, language is [communicating] ideas and computer science is communicating information. I find that that connection is the way that I engage the most." 
Dr. Andrew Rodekhor speaks on Troutman's enthusiasm towards the discipline and engagement with the content: "Brae has been a wonderful part of my classes and the department over the last several years."
Rodekhor continued: "He is always willing to answer challenging questions about the material, responds to his classmates' points, and generates great discussions with his questions. His video essays that he made for my courses (on the history of classical music in the PRC, and on the Japanese anime film Paprika) have become models that I show to my classes for inspiration. Brae's thesis project explores the networks of queer activism in the PRC that are built through and sustained by documentary filmmaking. His research on the creation of community while subject to political surveillance, censorship, and erasure is vital and fascinating."
Currently, Troutman is pursuing a joint M.S./B.S. program. "I am taking some grad level [courses] in Computer Science and next year I'll finish up and get my master's degree in Computer Science," he said. 
Troutman is excited to put his two disciplines of studies together in his future and is prepared for a career combining elements of all that he has learned — with hopes that he will be able to engage with Chinese culture in-person. All of his study abroad efforts were halted due to the COVID-19 pandemic. 
"This summer I will be working at Red Hat — a Charlotte-based, global open source company," Troutman said. "I'll get to engage beyond American culture and will engage with cultures and employees around the world."