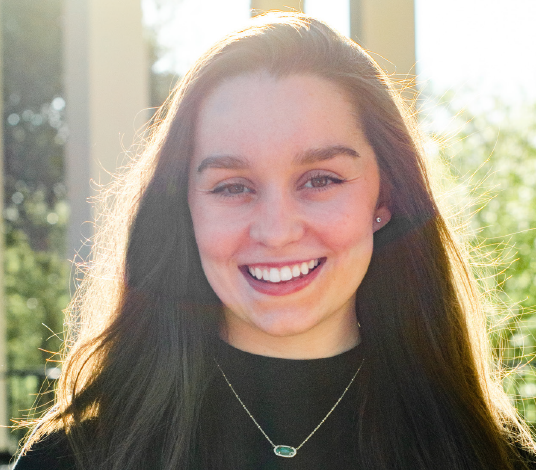 Sociology: Hannah DeMaioNewton
Hannah DeMaioNewton decided to pursue a medical career at a young age, spending her upbringing close to the treatment side of medicine as her family dealt with chronic Lyme disease. She moved to Raleigh, NC from a small town in Massachusetts at age 14 and came to Wake Forest with her sights set on becoming the first in her family to go into the field of healthcare. Upon her arrival, DeMaioNewton realized that her science course curriculum felt divorced from her perception of how the material should have related to real patients, which is what drew her to medicine in the first place. 
"One of the hardest things about coming to college and being a part of science is that you're not learning how to take care of people," DeMaioNewton said. "There's nobody to take care of except for yourself, you know?" 
Rather than majoring in a hard science like many other pre-medicine students, she felt that she had, "always been really interested in the more human aspects of medicine and how they impact people." 
Sociology bridged this disconnect for DeMaioNewton. She will graduate with a sociology major with a concentration in the social determinants of health and well-being, as well as a biology and chemistry double minor. 
DeMaioNewton declared her major after taking one sociology class, but she said she was glad to have taken the leap of faith because her coursework in health-related sociology classes consistently related to her premed classes. Topics ranging from sickle cell anemia to cancer or even cystic fibrosis overlapped across disciplines. DeMaioNewton described how these connections between the scientific explanation and the social implications of under or overfunded research satisfied her desire to identify how medicine can better serve communities.
Over the summer before DeMaioNewton's junior year, Dr. Alexandra Brewer joined the sociology faculty at Wake Forest, and Hannah immediately reached out to meet the new medical sociologist and ask to do research with her. DeMaioNewton has been Brewer's research assistant ever since. 
"Hannah is the kind of student every professor dreams of having in class — she is brilliant, creative, and kind," Brewer said. "I felt so lucky to have her in three classes my first year at Wake Forest, especially as I was navigating being a professor for the first time and teaching online."
Brewer's research studies how physicians make decisions about pain treatment during the opioid crisis. She praised DeMaioNewton's contributions to that research. 
"As a research assistant, [DeMaioNewton] was a lightning-quick learner, picking up the skill of in-depth interviewing after only a few training sessions," Brewer said. "Working with her was like working with a Ph.D. student. I can't wait to see the wonderful things she does with her career."
During the summer of 2021, DeMaioNewton was granted a Wake Forest Research Fellowship to complete her own independent project, which she will be defending in May. Compiling interviews with 23 physicians, DeMaioNewton's research paired well with Brewer's in a study on how pain specialists conceptualize pain and how these perceptions change their treatment of patients. 
"That's probably been the best experience I've had at Wake Forest," she said. "Being able to connect everything that I've learned in science and sociology, and then to write a thesis on it … I feel very lucky to have had that opportunity."
In addition to her academic achievements, DeMaioNewton is also a member of Alpha Kappa Delta, the international honors society of sociology, and Deacons for Neurodiversity. She is an ambassador for the Z. Smith Reynolds Library and the Center for Learning, Access and Student Success (CLASS) and works as a tutor in the CLASS office peer tutoring initiative, as well as for Kaplan, Inc. mentoring high school students in a heart medicine course. 
Since her freshman year, DeMaioNewton has enjoyed working as a gallery assistant at the Hanes Art Gallery and now the stArt Gallery. She has also been volunteering at a COVID-19 vaccine clinic since the summer of 2021.
After graduation, DeMaioNewton will be going into a full-time research position before applying to medical school